News story
New proposals to strengthen and clarify consumer rights
The consultation seeks views on rights and remedies for goods and services and digital content supplied under a contract. The Bill of Rights…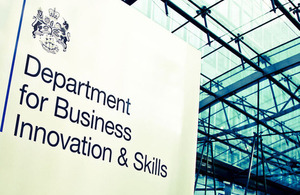 The consultation seeks views on rights and remedies for goods and services and digital content supplied under a contract. The Bill of Rights will set out in one place a clear code of shopping rights and simple standardised remedies for when things go wrong. Businesses will benefit from the simplified set of rules, which are intended to clear up customer issues more quickly.
Most consumer law was written about thirty years ago and does not clearly cover digital content like music, software or games so consumers are poorly protected by the law. The consultation proposes clear rights for consumers of digital content to bring the law up to date.
As both parties will be clearer on their rights and obligations, it will give consumers the confidence to buy from smaller businesses as well as more well known retailers. The measures will help stimulate growth and innovation by encouraging consumers to feel confident about asserting their rights when buying from businesses of all sizes.
Norman Lamb, Minister for Consumer Affairs said:
"The Consumer Bill of Rights will deliver greater clarity for consumers and save time and money for businesses so boosting confidence for consumers and businesses alike.
"The UK's consumer law is complex and difficult for consumers and businesses to understand. We want consumers to feel confident about their rights so they can challenge businesses when they buy poor quality goods, services or digital content such as music or games. These new measures aim to do just that.
"This Government is committed to delivering growth, and increasing consumer confidence will help markets work at their best. These measures will also help businesses save money by reducing the need for legal or dispute resolution costs. It is important that as many businesses and individuals as possible contribute their views, to help us continue to make the UK's consumer framework the best for both businesses and consumers."
The proposed changes will:
clarify the nature of consumers' rights and remedies in relation to the supply of goods, which is currently an area where the law is unnecessarily complex

bring the services regime more in line with the regime for goods, by strengthening consumer rights and remedies in relation to faulty services. The changes proposed include establishing a statutory guarantee and statutory remedies when the rights are breached, and the consultation also asks whether there should be a new legal right to certain services being judged on their outcome, rather than the way they are performed

modernise the law on digital content to protect consumers, by establishing a clear digital content regime with its own tailored set of rights and associated remedies
Richard Lloyd, executive director of consumer body Which?, said:** **"It's high time we had a new Consumer Rights Act to simplify and update the law, so we welcome these first steps by the Government. This should help people know what they're entitled to and what they can do when things go wrong, which is good for consumers, better for businesses and benefits the economy. To catch up with the 21st century the legislation will also need to make clear the rights of consumers when they're buying services or shopping in the digital world."
The British Independent Retailers Association said, "The Consumer Bill of Rights will redraw the legal landscape both for buyers and sellers. This consultation is crucially important: it must be got right first time and it must avoid unforeseen consequences. It is vital that as many brains as possible are brought to bear on it. Everyone should take part."
**Notes to editors
**1. The Government's economic policy objective is to achieve 'strong, sustainable and balanced growth that is more evenly shared across the country and between industries.' It set four ambitions in the 'Plan for Growth' (PDF 1.7MB), published at Budget 2011:
To create the most competitive tax system in the G20

To make the UK the best place in Europe to start, finance and grow a business

To encourage investment and exports as a route to a more balanced economy

To create a more educated workforce that is the most flexible in Europe.
Work is underway across Government to achieve these ambitions, including progress on more than 250 measures as part of the Growth Review. Developing an Industrial Strategy gives new impetus to this work by providing businesses, investors and the public with more clarity about the long-term direction in which the Government wants the economy to travel.
The consultation is available to view and comment on at http://discuss.bis.gov.uk/consumer-bill-of-rights. Responses to this consultation must be received by the 5 October 2012.

BIS's online newsroom contains the latest press notices, speeches, as well as video and images for download. It also features an up to date list of BIS press office contacts. See http://www.bis.gov.uk/newsroom for more information.
Notes to Editors
Contact Information
Name BIS Press Office Job Title
Division Department for Business, Innovation & Skills Phone
Fax
Mobile
Published 13 July 2012