News story
New proposals to reform Riot Damages Act
A series of recommendations to reform the Riot Damages Act following the riots in 2011 has been published by the Independent Reviewer.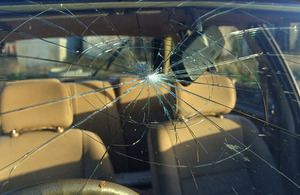 Neil Kinghan was commissioned by the Home Secretary, Theresa May, to conduct an independent review into the compensation arrangements set out in the Riot Damages Act and look at how they were implemented following the riots. This included looking at the definition of a riot and who should be liable.
The review published on Friday (8 November) concludes that the Act should be replaced with a new version in which the Police would continue to be liable under the Act. It also says the claims process needs to be faster and more efficient to ensure that smaller businesses are given the help they need to get back on their feet quickly.
His other recommendations include:
That in the event of widespread riots a 'riot claims bureau' staffed by loss adjusters and insurance experts should be set up to manage claims
That riot compensation payments made in future should be made on a new-for-old basis rather than the current old-for-old approach
The language in the Riot Damages Act should be modernised
The amount of compensation that can be provided to insurers should be capped
The review also recommends including damage to cars and other vehicles as they were not invented when the Act was conceived back in 1886.
Neil Kinghan, Independent Reviewer of the Riot Damages Act said:
The Riot Damages Act is an important piece of legislation protecting the public and businesses in the event of a large-scale riot but, at over 100 years old, it is well overdue for reform.
During my review I met a wide range of people affected by the riots and it was clear that whilst central and local government did their best, they were hampered by a lack of preparedness both for the riots themselves and for the demands for compensation they generated.
I was pleased to be given the opportunity to work on this review and I hope that government will carefully consider my recommendations.
Policing, Criminal Justice and Victims Minister, Damian Green said:
The riots that raged in London two years ago were utterly disgraceful. The wanton and widespread criminality caused enormous distress to a great many people and businesses.
The measures in the Riot Damages Act provide a safety net but they have to be efficient and provide value for money for the taxpayer.
This is a very thoughtful and constructive report and we aim to launch a public consultation by the end of the year.
Read Damian Green's article on the report's recommendations here
Published 8 November 2013