News story
New project launched to protect oak trees from harmful caterpillar
Announcement of £1.5 million project to protect oak trees from a destructive moth.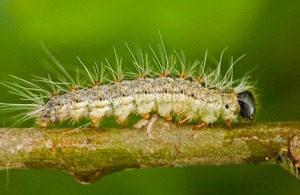 An extra £1.5 million has been allocated to protect oak trees from a destructive moth, Environment Minister Lord de Mauley announced today.
This extra money will fund a pilot project that has been designed to tackle the Oak Processionary Moth (OPM) by allowing plant health experts to treat oak trees in and around areas where the caterpillars are currently nesting.
At the moment only trees that have already been infected are treated so it is hoped that this will prevent the caterpillars from spreading any further.
Lord de Mauley said:
Tree health is a priority for us and this pest not only affects our trees but can also cause skin irritation in people and animals.
The additional funding will allow us see if a wider programme of spraying is effective in destroying these pests.
The pilot project will examine the impact of wider spraying on the spread and control of OPM and will be monitored for its effectiveness. The pilot will also ensure trees with less visible signs of infestation are treated.
The results will be considered when developing future strategies in dealing with tree pests.
Sue Ireland, Chair of the London OPM Advisory Group said:
We are delighted with this significant opportunity for more-focussed control of OPM. Our green spaces are precious, and landowners, local authorities, government and the public must grasp this opportunity and work together to protect them for the enjoyment of future generations, and to protect human and animal health.
OPM has been present in the UK since 2006 and is currently present only in the South, West and South-West of London and one site in West Berkshire. The caterpillars of the moth damage the trees by feeding on the leaves and the resulting leaflessness can leave the trees vulnerable to other pests and diseases.
The caterpillars make tennis ball sized nests in trees; if people spot these they should not attempt to remove the nests but report them to their local authority or the Forestry Commission.
Defra is continuing to tackle tree pests and diseases, including Chalara, and research is being undertaken to look at diseases present in Europe which are not present in the UK.
To tackle tree disease the Government has already:
Commissioned a plant health task force that will look at further ways to prevent pests and diseases from entering the country in the future
Allocated £8m for research into diseases that could affect our trees
Planted 250,000 ash saplings to monitor for genetic resistance to Chalara and has commissioned research to investigate genetic resistance in a laboratory setting
Published 9 May 2013