News story
New powers for courts to improve justice for wronged consumers
Today's '_Civil Enforcement Remedies' _consultation will change the way authorities like Trading Standards enforce the law on behalf of consumers…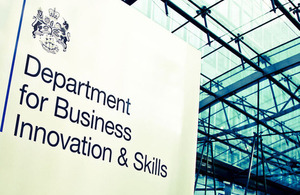 Today's '_Civil Enforcement Remedies' _consultation will change the way authorities like Trading Standards enforce the law on behalf of consumers, giving them a range of new powers to use in civil courts that aim to:
make sure businesses abide by consumer law and increase good practice

reimburse consumers for money lost

boost consumer confidence and empower them to exercise greater choice.
Proposals include giving courts the option of making a business designate a point person who will look at how well a business complies with consumer law. Another option could include introducing a clear complaints-handling scheme so customers know exactly who to contact for help when they have a problem. Other proposals will make it easier for consumers to find out which businesses they can trust and which they cannot.
Jo Swinson said:
"Too often consumers are short changed as the result of criminal prosecutions under consumer law: currently a business is condemned and fined, but nothing is done to repay the money lost by the customer. Instead, customers are forced to foot the bill for costly and time consuming legal action to get their money back.
"When consumers, especially vulnerable consumers, have been wronged they should be able to have free access to justice quickly and simply. With these proposals, when a business has infringed your rights as a consumer the court will make sure they reverse the damage and give consumers their money back. This will put the balance back in the system, and give consumers more power to exercise their choices confidently."
At present when a business breaks a consumer law, the customer can go to an enforcer for help. The enforcer will take forward the complaint on their behalf, seeking a criminal prosecution or an injunction order in the civil courts which stops the conduct in question. However, the individual will not necessarily see any positive action by the business or gain any benefits for themselves as a result.
Under new proposals, where a consumer has lost a sum of money due to a business breaking consumer law, whether it is through overpayment or being mis-sold something, consumers would get that money back.
The aim of the proposals is to make businesses address the cause of the consumer's complaint, meaning they cannot simply make a superficial change to solve an individual problem.
Examples of how these changes could work are:
if a company was found to have overcharged all its customers for the guarantees it sold with a washing machine, that company could be asked to write to all its customers informing them of their right to a sum of money if they send back a tear-off slip within a certain time

after a company mis-sold insurance with its coffee machines and ignored complaints, as well as fixing the individual problem it will have to make sure it changes its sales and complaints policy so that other customers don't get the same problem
Which? Executive director Richard Lloyd said,
"These new powers should help ensure consumers are no longer left out of pocket if they have been ripped off or are the victims of mis-selling.
"We hope these proposals will spread better practice among businesses and help boost consumer confidence, which is vital to our economic recovery.
"We will want to see the authorities, including Trading Standards, using these powers to get consumers a better deal."
The consultation closes on 31 December 2012.
**Notes to editors:
**1. The consultation is available to view online at http://www.bis.gov.uk/Consultations/civil-enforcement-remedies-consumer-law?cat=open
The implementation of the changes is being considered by the proposed Consumer Bill of Rights, which could be introduced next year.

Public enforcers are Trading Standards Services (part of local authorities), the Office of Fair Trading and sectoral regulators such as Ofcom or the Civil Aviation Authority.

The proposals will allow courts to impose an Enforcement Order in individual cases of misconduct, which is an official order of the court to ensure the remedy is achieved. The business may offer an Undertaking as an alternative to going to court, which is a formal promise.

The Government's economic policy objective is to achieve 'strong, sustainable and balanced growth that is more evenly shared across the country and between industries.' It set four ambitions in the 'Plan for Growth' (PDF 1.7MB), published at Budget 2011:
To create the most competitive tax system in the G20

To make the UK the best place in Europe to start, finance and grow a business

To encourage investment and exports as a route to a more balanced economy

To create a more educated workforce that is the most flexible in Europe.
Work is underway across Government to achieve these ambitions, including progress on more than 250 measures as part of the Growth Review. Developing an Industrial Strategy gives new impetus to this work by providing businesses, investors and the public with more clarity about the long-term direction in which the Government wants the economy to travel. Strong, empowered consumers promote competition which contributes to economic growth.
BIS's online newsroom contains the latest press notices and speeches, as well as video and images for download. It also features an up to date list of BIS press office contacts. See http://www.bis.gov.uk/newsroom for more information.
Notes to Editors
Contact Information
Name BIS Press Office Job Title
Division Department for Business, Innovation & Skills Phone
Fax
Mobile
Email bispress.releases@bis.gsi.gov.uk
Name Syeda Hasnain Job Title
Division Department for Business, Innovation & Skills Phone 020 7215 6245 Fax
Mobile
Published 5 November 2012