News story
New plans to cut bureaucracy in Brussels and keep the UK on the front foot in Europe
The three new 'Operating Principles' set out how the UK can exert early influence over legislation coming from the European Union. They aim …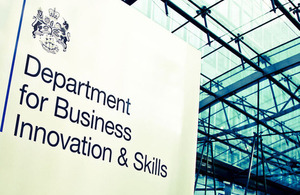 The three new 'Operating Principles' set out how the UK can exert early influence over legislation coming from the European Union. They aim to:
Strengthen early engagement in Brussels, especially before the European Commission formally brings forward proposals for legislation when the scope for influencing final outcomes is greatest
Put evidence at the heart of the Government's approach to negotiating EU proposals
Hold the European Commission, Council and Parliament to account on the commitments they have already made on regulating only when absolutely necessary and assessing the costs and benefits of new legislation before proposing or agreeing to it.
Minister for Business & Enterprise Mark Prisk said:
"British businesses, civil society organisations and citizens are all affected by EU legislation. This Government is serious about getting to grips with the quantity and quality of rules coming out of Europe.
"Only by engaging early with developing policy and, where necessary, trying to stop it before it is set in stone can we make sure that we can get the best outcome for our businesses."
These Operating Principles complete the Government's 'Guiding Principles for EU Legislation' published last December, which set out how the Government will end the so-called gold-plating of EU law when implementing it in the UK.
Notes to editors:
---
The Operating Principles are:

Twice a year ministers will report to the Foreign Secretary on their department's early influencing priorities and engagement strategies, showing how they are seeking both to influence the Commission's policy agenda and ensure that important future EU measures (legislative and non-legislative) are justified, that the policy objectives of a regulatory proposal cannot be achieved through non-regulatory means and proposals are drafted to maximise benefits and minimise risks to the UK. The EAC, following consultation with the RRC, can then, in turn, agree cross-Government early influencing priorities for joined-up lobbying.
Departments will endeavour to seek clearance for their proposed UK negotiating position promptly. Departments should analyse the order of magnitude of likely impacts of different negotiating options to help ministers make evidence-based decisions. The analysis should be proportionate to the proposal and time available and be presented succinctly

The Government will work with EU partners to hold the EU institutions to account on the commitments they have made on consultation, impact assessment, the "think small first" principle and reviews in order to improve the quality of EU regulation_._

The consolidated 'Guiding Principles for EU legislation' are available at: http://www.bis.gov.uk/policies/better-regulation/policy/european-legislation/guiding-principles-eu-legislation.

BIS's online newsroom contains the latest press notices, speeches, as well as video and images for download. It also features an up to date list of BIS press office contacts. See [http://www.bis.gov.uk/newsroom](http://www.bis.gov.uk/newsroom) for more information.
Notes to Editors
Contact Information
Name BIS Press Office Job Title
Division COI Phone
Fax
Mobile
Email NDS.BIS@coi.gsi.gov.uk
Name Nick Evans Job Title
Division Department for Business, Innovation and Skills Phone 020 7215 3496 Fax
Mobile
Published 30 June 2011