New plan for stronger flood defences
Lessons learnt from last winter's floods have helped build a new approach so the nation is better prepared and more resilient to flooding.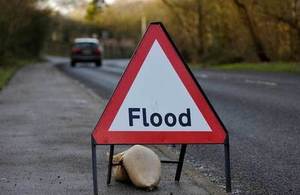 Improved rain and flood modelling, a significant increase in new temporary flood defences and greater protection to infrastructure were all outlined in the government's National Flood Resilience Review today.
Environment Secretary Andrea Leadsom set out how lessons learnt from last winter's floods have helped build a new approach so the nation is better prepared and more resilient to flooding, now and in coming years.
The review includes:
£12.5 million for new temporary defences, such as barriers and high volume pumps, at seven strategic locations around the country. By this winter, the Environment Agency (EA) will have four times more temporary barriers than last year.

Utility companies' commitment to increase flood protection of their key local infrastructure, such as phone networks and water treatment works, so they are resilient to extreme flooding.

A new stress test of the risk of flooding from rivers and the sea in England. For the first time, Met Office forecasts of extreme rainfall scenarios will be linked with Environment Agency modelling to provide a new assessment of flood risk.
Environment Secretary Andrea Leadsom said:
Last winter we saw just how devastating flooding can be. This review sets out clear actions so we are better prepared to respond quickly in the event of future flooding and can strengthen the nation's flood defences.

Work is already underway towards £12.5 million of new temporary defences stationed around England, better protection for our infrastructure and new flood modelling that makes better use of data and technology.

We are absolutely committed to reducing the risk of flooding by investing £2.5 billion up to 2021 so we can help protect families, homes and businesses this winter.
Ben Gummer, Minister for the Cabinet Office and Paymaster General, said:
This is an important step in the fight against flooding as these new measures will help to protect communities from the perils of extreme weather.

The government has made clear that we expect water and telecoms companies to work ever closer together to improve their preparation and response to flooding, making sure lifelines such as mobile phone masts and water treatment works continue to function even when the Great British weather is throwing its very worst at us.
Sir Mark Walport, the Government Chief Scientific Adviser, said:
It is important that policy on flood risk is underpinned by credible and objective scientific evidence and analysis. This review used new modelling techniques to challenge our ideas around the frequency and location of extreme flooding.

We were able to model what level of rainfall would be worse than anything that we have experienced but still possible for our climate. This information enabled us to look again at how bad coastal and river flooding could be under such extreme conditions to ensure we are better prepared. This work was overseen by an expert group brought together from across industry and academia.
Sir James Bevan, Chief Executive of the Environment Agency added:
We worked closely with the government on this review. I welcome these plans setting out how the country can become more resilient to flooding in future. The extra funding will help us to do even more for local communities so that we can better protect homes and businesses and respond even more rapidly and flexibly when extreme weather strikes.

Managing flood risk is everyone's responsibility. Find out if you are at risk, and how to protect yourself, on the GOV.UK website.
With the evidence of the National Flood Resilience Review, government will now turn its attention to investment after 2021, making sure funds are directed where they are needed most.
This builds on the £2.5 billion already being invested between 2015 and 2021 to strengthen our flood and coastal defences, as well as spending £1 billion on maintaining the nation's flood defences over this Parliament. It was also announced this week that the government has already paid out over £1 million to more than 180 flood-hit farmers to help their business recovery after last winter's storms. The government has approved more than £9 million worth of applications for funding, helping over 1,000 farmers across Northern England as part of the Farming Recovery Fund.
Following the National Flood Resilience Review, the government is launching four new trailblazing projects to develop, test and accelerate new ways of managing the environment; this will include a project in Cumbria, which focuses on natural flood management strategies and up-to-date modelling and data tools.
Published 8 September 2016