Press release
New plan for Build to Rent homes in west London
Housing Minister Kris Hopkins announces new deal to build 123 homes for private rent in West Drayton.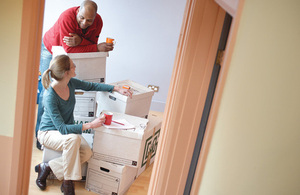 A west London suburb is set to benefit from over 120 new homes specifically for private rent under a new deal announced today (10 April 2014) by Housing Minister Kris Hopkins.
Under the terms of the deal, Inland Homes will receive an £8.7 million repayable loan to build 123 new 1 and 2-bedroom apartments in West Drayton, Middlesex. The homes will be available for private rent, with work starting on site as early as July this year.
The minister welcomed the latest contract under the government's Build to Rent scheme as helping meet 'clear demand for good quality private rented homes' in the area.
Building to Rent
The Build to Rent fund helps developers build homes specifically for the private rented sector, and is well on track to have work underway on up to 10,000 new homes by 2015.
The 123 homes announced today will be built as part of the wider Drayton Garden Village development, which includes a total of 773 new homes, a nursing home and commercial premises.
Housing Minister Kris Hopkins said:
With easy access to both central London and Heathrow Airport, there is clear demand for good quality private rented homes in West Drayton.

So I'm pleased to announce this new deal which will lead to 123 new homes through our Build to Rent scheme, as part of the wider Drayton Garden Village development.

This is the fourth site to receive Build to Rent funding in the capital, offering greater choice for Londoners looking to rent on fair and flexible terms.
Stephen Wicks, CEO at Inland Homes said:
We are delighted to have secured this funding; we are confident that by applying Inland's expertise in planning and development we can help to shape local communities and stimulate new private housing supply, which in turn will attract new institutional investment into the private rental sector.
Deputy Mayor for Housing, Land and Property, Richard Blakeway, said:
London faces an unprecedented demand for new homes, with a soaring population and following a historic 30-year failure to build enough. The Mayor has set the most ambitious house-building targets to address this and the private rented sector has a huge part to play. By improving the offer of new, good quality, well designed homes to rent, we can rebalance the capital's rental market, improve services for tenants and boost the local economy as well as providing the new homes that hardworking Londoners so desperately need.
Margaret Allen, Interim Executive Director for Programmes and Recoverable Investment, said:
We are really pleased to support the development of Drayton Garden Village by providing Inland Homes with investment to extend the choice of private rented homes available in the local area. This is a good example of what the Build to Rent fund can achieve and is all about.
Further information
The homes announced today will be delivered by Drayton Garden Village Ltd, a company managed by Inland Homes. Today's deal is the fifth so far from the first round of the scheme, with work already started on sites in Southampton and Manchester, and work planned on sites including Bristol, Cambridge, Chelmsford, Hemel Hempstead and Southampton, as well as across London.
A further 36 schemes have also been shortlisted through the second round of Build to Rent, to deliver up to a further 6,500 homes.
Office address and general enquiries
2 Marsham Street
London
SW1P 4DF
Contact form http://forms.communiti...
General enquiries: please use this number if you are a member of the public 030 3444 0000
Published 10 April 2014