New permanent secretary for the Home Office
Mark Sedwill has been appointed as the new Permanent Secretary for the Home Office.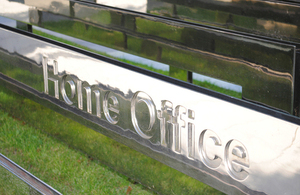 Mr Sedwill, who will take up the post on 1 February 2013, will replace Helen Kilpatrick who has been Acting Permanent Secretary since Dame Helen Ghosh left the department to join the National Trust.
He is currently Director-General (Political) at the Foreign and Commonwealth Office and the Prime Minister's Special Representative for Afghanistan and Pakistan.
Experience and skills
Home Secretary Theresa May said: 'I am very pleased to be welcoming Mark Sedwill to the Home Office as Permanent Secretary.  He brings a wealth of experience and skills which will be invaluable as we continue to deliver vital reforms.  I look forward to working with him and should like to thank Helen Kilpatrick for her excellent support during her time as Acting Permanent Secretary.'
Head of the Civil Service Sir Bob Kerslake said: 'I am delighted that Mark has been appointed as Permanent Secretary at the Home Office. His enthusiasm, policy skills, strong leadership and operational capability will be key in enabling him to deliver on the department's priorities.'
Great privilege
Commenting on his appointment, Mr Sedwill said: 'This is a huge challenge and a great privilege.  Nothing in public service is more important than keeping Britain's streets safe and our borders secure, while protecting our civil liberties, open economy and society.  I look forward to joining the Home Office team responsible for leading that effort and for responding to the fast-evolving threats and opportunities ahead.'
His appointment was approved by the Prime Minister, with the agreement of the Home Secretary and following consultation with the Deputy Prime Minister.
Biography
Educated at Bourne Grammar School, St Andrews University and Oxford University
Joined the Foreign and Commonwealth Office from university in 1989
In the 1990s, he had postings to Egypt and Cyprus and a spell as a UN weapons inspector in Iraq
Worked as Private Secretary to the Foreign Secretaries Robin Cook and Jack Straw including during 9/11
Deputy High Commissioner to Pakistan, the Deputy Director for the Middle East and North Africa and Director of UK visas and International at the UK Border Agency
In 2009 became HM Ambassador to Afghanistan and then went on to become NATO Senior Civilian Representative to Afghanistan in 2010
In 2011, he returned to the FCO as Special Representative for Afghanistan and Pakistan, and Director-General (South Asia) before being appointed Political Director in 2012
Published 9 January 2013