Press release
New parents get more support from health visitors in the home and community
Families around the country will receive a more personalised service from their local health visiting teams thanks to expansion of the programme which aims to give new parents personalised support in their homes and communities.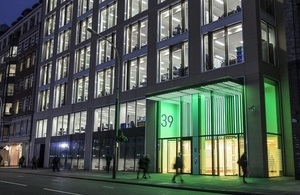 Twenty-three areas will make their health visiting services more dynamic and responsive to the needs of their community.
This is the second phase of a national roll out of improved ways of working for health visitors. The first phase of twenty-six sites, which have now been running for over a year, have included projects such as:
The 'breast start' app developed by the Wirral Community NHS Trust to advise women on breast feeding technique and highlighting local restaurants and cafes which are 'breastfeeding friendly'.

The 'Hello Baby' course created by NHS Blackpool which gives mothers with young babies who have post natal depression help understanding the unique needs of their baby and increases attachment and bonding.
In the 150th year of health visiting, this marks progress towards the whole country delivering a health service which is universal, personalised and dynamic. The drive to deliver this new vision takes place alongside the work to recruit another 4,200 health visitors by 2015.
Public Health Minister Anne Milton said:
"From their early beginnings in 1862, through to the present day, health visitors have worked to make sure that children have a positive start in life and families with new babies get the support they need. We want to take forward this legacy so families get the best service they can from their health visitors.
"I have seen first-hand how families benefit from the advice and support through this work and would like to express my thanks to all the health visitors and those who are making this happen. It's fantastic that more people will get the benefits from having a personalised health visiting service to meet their own specific needs."
Clare Whitehead , Infant Feeding Lead at The Wirral Community NHS Trust said:
"Since we became an Early Implementer Site for Health Visiting, we have been given unique opportunities to explore innovative ways of communicating with local families.
"Our breastfeeding App, Breast Start, was developed following parent consultation, with the aim of giving mums professional, evidence-based information whenever needed. It also lists and directs them to local cafes and restaurants, where mums can feel comfortable breastfeeding. Our team approached the proprietors to join efforts to promote breastfeeding and display a "Welcome to Breastfeed" sticker.
"Developing the Breast Start App has been an incredibly exciting project to be part of and has enabled us to create this innovative tool that Health Visitors can use when working directly with clients."
Notes to Editors
The second wave of Early Implementer Sites are:
Sussex Community NHS Trust (West Sussex)

Kent Community Health NHS Trust

Cambridgeshire and Peterborough NHS Foundation Trust

Integrated Children's Services NHS Devon

Somerset Partnership NHS Foundation Trust.

Sandwell and West Birmingham Hospitals NHS Trust

Lincolnshire Community Health Services

Leicestershire Partnership NHS Trust

Humber Foundation Trust

South West Yorkshire Foundation Trust

Oxford Health NHS Foundation Trust

Oldham Community Health Services, Pennine Care NHS Foundation Trust

Liverpool Community Health NHS Trust

Bridgewater Community Healthcare NHS Trust - Ashton Leigh and Wigan Community Healthcare

Bridgewater Community Healthcare NHS Trust - NHS Trafford

Bridgewater Community Healthcare NHS Trust - NHS Warrington

St Georges Health Care NHS Trust (Wandsworth)

Sutton and Merton Community Services

Greenwich Community Health Service

Essex North and South Cluster (which comprises: South East & West Essex; Anglia Community Enterprise and Community Interest Company, Central Essex Community Services and North East London Mental Health Foundation Trust.)

Central Surrey Health
Surrey Community Health       
First Community Health and Care
A summary of the activity of the first wave sites are included in a brochure "Celebrating Early Implementer Achievements - One Year On".
The event to celebrate the first wave sites took place on the 30th April and was attended by the Secretary of State for Health Andrew Lansley, Public Health Minister Anne Milton and was chaired by Director of Nursing Viv Bennett. Photos from the event can be obtained by request from the Department of Health press office on 020 7210 5658
Timeline showing the impact of 150 years of the health visiting profession.
Published 26 June 2012