New opportunities for UK-Korea business
Foreign Secretary William Hague talked about the strong relationship between the UK and Korea as the EU-Korea Free Trade Agreement comes into force.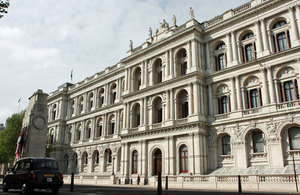 Foreign Secretary William Hague
Writing in the Joongang Ilbo, the Foreign Secretary said:
The EU/Korea Free Trade Agreement comes into force today. This is a huge opportunity to bring our two peoples closer together through trade, commerce and innovation, to the benefit of all our citizens.
Prime Minister David Cameron visited Seoul last year and saw the great scope for closer links with Korea. Our relationship is already a deep one. British Forces fought in the Korean War with numbers second only to the United States, resulting in deep bonds between our two peoples.
From this shared history, we have forged a strong relationship, built on education, culture, trade, and mutual interests in economic and foreign policy. We also have a shared love of sport. It's great news that in 2012 there will be five Korean players in the English and Scottish Premier Leagues and Samsung is a key sponsor of the London Olympics.
The Free Trade Agreement will help us to build even stronger ties based on shared prosperity and growth. Our bilateral trade relationship was valued at an impressive £10 billion in 2010 and this agreement will unlock new opportunities to increase this.
Green growth is one such area. In many respects, Korea and the UK are natural partners. Korean companies are world leaders in construction, shipping and offshore oil and gas. The UK is leading the way in developing green technologies and creating the infrastructure for a low carbon economy. We are already the world leader in offshore wind, with more installed capacity than any other country, and our ambitious carbon reduction plans will put smart meters in every home and ensure 30 per cent of electricity comes from renewable sources by 2020.
Korean companies like Doosan have already recognised this by announcing an investment of £170 million in Scotland for an R&D centre in offshore wind - creating up to 200 jobs. Our Trade Minister, Lord Stephen Green, will be travelling to Korea in November, where he will be following up on these opportunities and helping to strengthen UK/Korea ties in green energy.
We hope that the FTA will result in more Korean businesses choosing the UK as a platform to grow their business in Europe, joining the 200 or so Korean firms already here working in a diverse range of sectors and operations, from life sciences to low carbon across HQs, research centres and design studios.
Having attracted some £2.25 billion of Korean investment in 2010 - more than double that of any other European country and the third highest globally - we are already a favoured destination for Korean firms. The Korean capital of Europe, New Malden, is in London.
I want Korean companies to know that Britain is open for business. I want Korean consumers to know that they will soon benefit from a wider range of British products and services available in Korea, from high-end fashion and whisky to pharmaceuticals and environmentally-friendly products.
Korea and the UK share a vision for the future - a sustainable future that will continue to unlock opportunities, strengthen ties, stimulate the interchange of technology and provide the best environment for business to flourish. And as business grows, so too will tourism, student exchanges and who knows, perhaps even more Korean footballers in the Premier League! And that can only be a good thing.
Search the news archive
Published 1 July 2011