New Ofsted chairman appointed
Education Secretary Michael Gove appoints Baroness Morgan of Huyton to post of Ofsted chairman.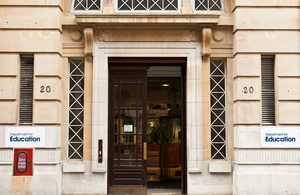 Baroness Morgan of Huyton was today named the new chairman of Ofsted.
Education Secretary Michael Gove, who made the appointment, said Baroness Morgan would play a key role in ensuring Ofsted met Government priorities of focusing on pupil attainment, teaching and learning, leadership, and behaviour and safety.
Michael Gove said:
I am delighted to appoint Baroness Morgan to this high-profile and vital post.
Sally is a hugely talented individual whose passion is improving education. She will ensure Ofsted focuses on improving our schools so we can match the world's best, and will help us make opportunity more equal for the poorest.
Baroness Morgan said:
I am delighted to be taking up this post. Ofsted has a crucial role to play in the drive to raise standards, especially for disadvantaged students. Teachers, parents, pupils, the local community and government all need to be able to rely on the assessment of a school's performance. Above all, they want to be confident about the quality of teaching and leadership - the bedrock of all successful schools.
The previous chairman of Ofsted was Zenna Atkins, whose term ended on 31 August 2010. John Roberts, an existing board member, was appointed interim chairman from 1 September for up to six months.
Baroness Morgan of Huyton has been an adviser to the global board of ARK, a children's charity, since 2005. She serves on a number of public bodies including the advisory committee of the Institute of Education, and is chairman of the Morgan Inquiry to encourage 18- to 24-year-olds to volunteer. She is a school governor, has a PGCE from London University and an MA in Comparative Education from the Institute of Education, and she has worked as a secondary school teacher. She was previously political secretary to Tony Blair, director of government relations at 10 Downing Street and a minster of state for equalities at the Cabinet Office. She was created a life peer in 2001.
The baroness is due to start at Ofsted on 1 March.
 Notes to editors
Recruitment for a permanent successor began in July 2010. The independent assessor is satisfied that it was conducted in accordance with the code of practice issued by the Office of the Commissioner for Public Appointments.
The post of Ofsted chair was created in 2007 to reflect the expanded role of Ofsted's inspection and regulatory remit, which covers children's services and skills as well as education.
The Office for Standards in Education, Children's Services and Skills (Ofsted) is one of the largest regulatory and inspection bodies in England. Ofsted inspects and regulates to achieve excellence in the care of children and young people and in education and skills for learners of all ages.
DfE enquiries
Central newsdesk - for journalists 020 7783 8300
General enquiries - for members of the public 0370 000 2288
Website: www.education.gov.uk/help/contactus
Published 8 February 2011