Press release
New official statistics show resurgence in volunteering as millions more give their time to help others
Sharp rise in volunteering reverses the steady decline seen since 2005.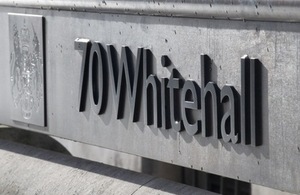 9 percentage-point increase in regular volunteering
84% of people are satisfied with their local area
Nearly half of people want to be involved in local decision making
More people report a very strong sense of belonging to Britain
New figures released today show a sharp rise in volunteering and that people are actively coming together to drive improvements in their communities, Minister for Civil Society, Nick Hurd said today.
The Official Statistics published for the first time by the Cabinet Office show that the proportion of people volunteering at least once a year has now increased from 65% in 2010 to 2011 to 71% in 2012, with an even bigger increase in the proportion of people volunteering regularly. This equates to millions more people volunteering across the country – showing that the cultural change is not limited to the 120,000 who volunteered to make the Olympics a success. Significantly, this reverses the steady decline in volunteering seen since 2005.
The survey also reveals:
people are still giving generously to charity, with 74% making donations in 2012, compared with 72% in 2010
55% reported a very strong sense of belonging to Britain, an increase from 51% in 2010
a strong sense of community spirit, with 79% of people reporting they belong strongly to their neighbourhood
87% of people report that their local area is one where people from different backgrounds get along well together
nearly half of people want to be more involved in local decisions, a significant increase from 2010
Ministers believe that the figures are a vindication of their Big Society agenda to support people to get more involved in their communities. The government has backed a number of initiatives such as National Citizen Service for 16 and 17 year olds and the Olympic volunteering legacy programme Join In to engage a new generation in volunteering and civic engagement.
The statistics come on the same day the Prime Minister is launching a new drive to recruit one million volunteers to support people with dementia, in conjunction with the Alzheimer's Society.
The Prime Minister said:
"We all want a bigger, stronger society where people do their bit and that's why I am pleased that the Community Life Survey shows we are making progress. The figures show that millions more people are volunteering and that the British people remain incredibly generous with charitable giving.
We want to build on this success and make it easier for people who want to get involved. That's why I am proud to be launching the effort today to get one million new volunteers trained to support people with dementia."
Minister for Civil Society Nick Hurd said:
These figures show a very positive picture of how well Britain has responded to tough times. We should take pride that so many people have helped reverse the decline in volunteering.
"London 2012 showed what we can achieve through volunteering and we are determined to build on the inspiration of the games."
Programmes which the government is backing to encourage volunteering and social action include:
National Citizen Service - In 2011 over 8,000 young people took part in NCS, and in 2012 we expect the programme will have trebled in size, with 26,000 young people taking part. This equates to 700,000 hours of social action completed.
Join in, the Olympic legacy volunteering programme, delivered over 6,000 events across the UK, with over 300,000 people taking part.
Through the Social Action Fund the government has supported 40 charities with more than £20 million over two years so that they can recruit more volunteers. So far, over 100,000 volunteers have been recruited with 500,000 expected by Autumn 2013.
The government is investing an additional £40 million to support some of the most promising initiatives that use social action to help solve some of the thorniest social issues. The first of which will help recruit one million new volunteers to become 'dementia friends' bringing communities and individuals together to take responsibility in solving a critical problem.
See also: Community Life Survey: Q2 2012-13 - Statistical Press Release
Notes to editors
The Community Life Survey is a new survey commissioned by Cabinet Office to provide Official Statistics on issues that are key to encouraging social action and empowering communities, including volunteering, charitable giving, community engagement and well-being.
The Survey is representative of adults (aged 16+) in England. This first release covers data from Q2 2012-13, and is based on 2,262 interviews carried out between August to October 2012-13 by TNS-BMRB, on behalf of Cabinet Office.
The Survey is designed to be comparable with key measures on the previous Citizenship Survey so that trends can be tracked over time. Where applicable, data from Community Life is compared with data from the 2010-11 Citizenship Survey.
Full findings, excel tables and survey outputs can be found at http://communitylife.cabinetoffice.gov.uk/.
Join in, building on the Olympics, delivered over 6 000 events across the UK, with over 300,000 people taking part. Of those that took part, 10% volunteered on the day and over 10% signed up for future volunteering. We are supporting Join in to continue to build on the success of 2013.
Community Organisers are well-trained and committed individuals who play a major role by listening to their communities they identify local leaders, projects and opportunities, and empower the local community to improve their local area. The work of the Organisers is independent of government, local authorities and charities, with local people setting the priorities and projects to take forward. The Organiser enables them to take action on the things that matter most to them.
Community First is an £80m government funded programme that will help communities come together through new and existing community groups to identify their strengths and local priorities, plan for their future and become more resilient.
So far the Community First Neighbourhood Matched Fund has leveraged 1.2m volunteering hours, by providing match funding for time, cash donations, and other resources contributed by communities towards social action projects in some of the most deprived communities in England.
The Government is supporting local charities with £30 million fund to help transform and modernise local charity support services. More than seventy partnerships of local support and development organisations across England have received grants to transform their services and provide high quality, joined up support to frontline charities. These projects will also make it easier for organisations to forge better links with local businesses, develop stronger partnerships with local public sector bodies and for people to volunteer.
Community Life Quarter 2 findings Regional Differences Volunteering

OVERALL –- there has been an increase in the levels of all types of volunteering since 2010-11.
REGIONAL -– there were (statistically significant) increases in the following regions:

North East –- formal volunteering (once a year) increased from 29% to 42%
North West -– informal volunteering (once a year) increased from 51% to 65%
East Midlands -– formal volunteering (once a year) increased from 35% to 49%
East of England -– formal volunteering (once a month) increased from 27% to 36%
London -– informal volunteering (once a month) increased from 23% to 34%, formal volunteering (once a month) 19% to 28%, informal volunteering (once a year) 49% to 60%
South West –- formal volunteering (once a year) increased from 49% to 58%
Levels of volunteering were sustained in the following regions:
Yorkshire and the Humber
West Midlands
South East 11.Community Cohesion

OVERALL – the proportions agreeing their local area was a place where people from different backgrounds get along well together are in line with 2010-11 and demonstrate strong feelings of cohesion within communities.
REGIONAL – this strong sense of cohesion is echoed across all regions of the country:

North East - 82%
North West –- 85%
Yorkshire and the Humber -– 82%
East Midlands -– 87%
West Midlands -– 89%
East of England -– 87%
London - 88%
South East– - 90%
South West– - 91%
Published 12 February 2013