Press release
New office supplies deal to save government over £18 million a year
Francis Maude has announced 2 new office supplies contracts expected to deliver savings of over £18 million a year.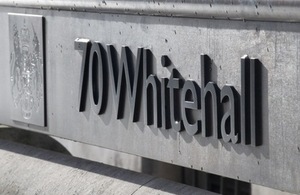 As part of the continuing drive to maximise the buying power of government, Francis Maude has announced 2 new contracts for office supplies which are expected to deliver savings of over £18 million a year.
All central government departments will now use the new centrally managed deal for Office Supplies and will pay the same price for items such as pens and paper, bringing to an end the days where departments pay different prices for the same items. A significant number of wider public sector organisations also decided to participate in this tender exercise.
Savings of between 12-29% are expected with the 2 new Office Supplies contracts which will be managed by HMRC on behalf of government procurement. The number of catalogue line items has been rationalised from 15,000 to 3,500 with scope to reduce this even further and generate more savings. The suppliers will be incentivised to work with government departments to identify further items to remove and further rationalise the list.
The new contracts will make available environmentally friendly, recycled stationery and toners, and for the first time ever, the unique "Closed Loop" recycling solution. This contract will be used across all central government departments providing secure document shredding and enabling them to recycle and reuse their own waste paper. The "Closed Loop" solution is already used by HMRC and The Ministry of Justice and is expected to reduce their paper costs by £500,000 per annum.
Francis Maude said:
These contracts will bring an end to the ludicrous practice of one department buying office equipment at one price whilst another buys the same items at a totally different price - all central government departments and quite a few public authorities will buy through this contract. I know it's not glamorous to talk about savings made by procuring pens and paper, but centralising our procurement in areas like this will save the government, and therefore taxpayers millions of pounds.
"The contracts will not only deliver significant savings but environmental benefits too by ensuring government departments move to using recycled paper and recycled toner cartridges. The Closed Loop initiative makes sense as it will allow us to recycle and re-use our own waste paper.  I'm particularly excited about this, because if we can generate enough business through this model and garner private investment, then the opportunity exists for the creation of a paper recycling mill in the UK, where none exists today.
John Collington, government's Chief Procurement Officer, said:
These contracts are the first of many we will source and manage of behalf of departments, where government's buying power is being better leveraged. These results demonstrate the procurement reform strategy is delivering as planned.
David Thomas, Commercial Director of HMRC, (who led the sourcing activity on behalf of Government Procurement), said:
The partnership approach we will take with suppliers will deliver immediate savings by aggregating department volumes through a consolidated supply base as set out within the government's Efficiency Review. In line with the government's procurement agenda a significant proportion of the goods and services supplied under this contract will be sourced from UK SMEs.
Notes to editors
The office solution contract has been awarded in 2 lots:
Lot 1 includes Office Stationery, Office Paper, Janitorial Goods, Small Office Machines and the unique Closed Loop Service solution and has been awarded to Banner Business Services, owned by Office2Office
Lot 2 includes Electronic Office Consumables and has been awarded to XMA Limited
Government Procurement, led from the Cabinet Office, will build on existing government-provided operations to deliver sustainable cost savings for central government departments, streamline current procurement processes and invest in civil service procurement staff. This includes negotiating contracts for widely used goods and services for the whole of government at a single, better price, ending the signing of expensive deals by individual departments. 
Published 4 August 2011