Press release
New Non Executive Directors of the NHS Trust Development Authority
Two new members have joined the NHS Trust Development Authority as Non Executive Directors of the board.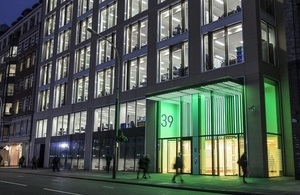 Health Minister Lord Howe has confirmed the appointment of Crispin Simon and Caroline Thomson who will start their new roles immediately.
Crispin Simon is currently a director at UKTI, a UK government department which is administrated jointly by the Department of Business, Innovation and Skills and the Foreign and Commonwealth Office.
Caroline Thomson is Chairwoman of Digitaluk, a not for profit organisation formed by broadcasters to assist consumers in the conversion to digital TV. Ms Thomson is also a Trustee/Deputy Chairman at the National Gallery.
Lord Howe said:
I am delighted to announce the appointment of Crispin and Caroline to the Board of the NHS Trust Development Agency.
They are exceptional talents who have a wealth of experience leading national organisations at the highest level.
I am sure they will bring this experience to bear when driving forward delivery by the NHS TDA.
Sir Peter Carr, Chair of the NHS TDA, said:
I would like to welcome Crispin and Caroline onto the NHS TDA Board.
Their appointments complete our Board and add to the wide and deep experience it contains.
I have no doubt that their skills in the broader world will be invaluable in guiding the NHS TDA on its journey to support non-Foundation Trusts to high quality, sustainable services and to achieve the ultimate goal of FT status.
Background information
For media enquiries please ring the Department of Health press office on 0207 210 5197.
The NHS TDA aims to support NHS Trusts to deliver high quality, sustainable services for the trusts they are responsible for. They develop and performance manage NHS Trusts, manage the Foundation Trust pipeline, appoint chairs and non-executive members of NHS Trusts and assuring clinical quality, governance and risk throughout the sector.
These appointments are made in accordance with the Code of Practice for Ministerial Appointments to Public Bodies, issued by the Commissioner for Public Appointments. All appointments are made on merit and political activity played no part in the selection process. However, in accordance with the original Nolan recommendations, there is a requirement for appointees' political activity (if any declared) to be made public. Neither have declared any current political activity.
The appointments started on 13th May and are for four years or to the closure of the NHS TDA, whichever date is the sooner. They will receive £7,883 per annum for a time commitment of 2 to 3 days per month.
For further information on the NHS Trust Development Authority visit their website.
Published 16 May 2013