Press release
New Non-Executive Director announced for Health Education England
The Department of Health has today announced the appointment of a new Non-Executive Director to join the Health Education England board.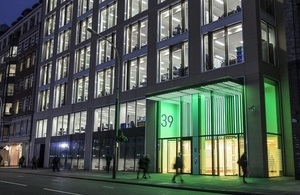 Health Education England (HEE) is responsible for the education, training and development of the health and public health workforce.
Mary Elford joins the HEE board whilst still maintaining her position as Non-Executive East London NHS Foundation Trust. She is also a member of the National Advisory Committee on Clinical Excellence Awards and external council member of Queen Mary, University of London, as well as a lay council member of the General Pharmaceutical Council.
Anna Soubry, Health Minister, said:
I am pleased to announce the appointment of Mary Elford to the Health Education England Board.

Mary will bring independent advice and a breadth of experience to Health Education England's work, which will be vital in promoting high quality education and training responsive to the changing needs of patients and local communities.
Sir Keith Pearson, Chair of HEE, said:
I am delighted that Mary Elford is joining the Health Education England Board. Mary will bring a wealth of experience and passion about the concerns of patients which will ensure Health Education England achieves its key aim of enabling the delivery of high quality care to England's population.
Mary Elford, said:
I am really looking forward to joining the board of Health Education England and contributing to its innovative work developing a high quality healthcare workforce that better meets the needs of patients now and in the future.
Background information
For media enquiries please ring the Department of Health social care desk on 0207 210 5821.
This appointment is made in accordance with the Code of Practice for Ministerial Appointments to Public Bodies, issued by the Commissioner for Public Appointments. All appointments are made on merit and political activity played no part in the selection process. However, in accordance with the original Nolan recommendations, there is a requirement for appointees' political activity (if any declared) to be made public. Ms Elford has declared no current political activity. 3.The appointment is for three years from 1 September 2013 and she will receive £7,883 per annum for a time commitment of 2 to 3 days per month.
4.For further information visit HEE website
Published 16 August 2013