New National Crime Agency
National Crime Agency will lead the UK's fight against serious and organised crime, strengthen policing at the border and make sure local police are linked up to work nationally and overseas, the Home Secretary said today.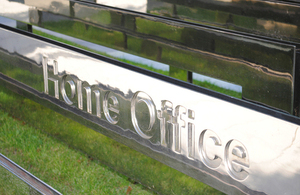 Organised crimes such as child abuse, drug and people smuggling, illegal immigration, cyber crime and fraud cost the public up to £40 billion each year; and impact on people's everyday lives.
National response
The new agency will give a national overview of organised crime for the first time and allow crime fighting teams to work together and get to grips with the scale and complexity of the issue.
A new intelligence centre at the heart of the agency will build a national picture of the threats, harms and risks to the UK from organised criminals. This information will be used to prioritise resources and support the work of police and law enforcement agencies on the ground.
Powerful new body
Home Secretary Theresa May said: 'The impact of serious and organised crime is felt across the UK in the everyday lives of people and neighbourhoods.
'For too long we have lacked a strong, collaborative national response in the fight for criminal justice, with a fragmented approach to policy, prevention and investigation. It is time for a fresh start.
'By creating a powerful new body of operational crime fighters - the National Crime Agency (NCA) - we will confront the serious and organised criminality that threatens the safety and security of the UK.
'The NCA will work in partnership with the police, law enforcement agencies, businesses and the public to ensure those who commit serious and organised crime are tracked down, pursued, brought to justice and their ill gotten gains are stripped away.'
The agency will answer to the Home Secretary and will be made up of four distinct crime teams - Organised Crime, Border Policing, Economic Crime and the Child Exploitation and Online Protection Centre.
It will employ investigators, enforcement officers, intelligence analysts and technical, financial and operational specialists.
Trained officers will have police, customs and immigration powers and use the latest technology and tools to tackle criminal activity.
Published 8 June 2011