News story
New MHRA Inspectorate blog
MHRA has today published its first blog.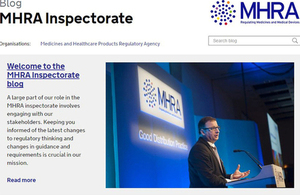 The MHRA Inspectorate blog is aimed at those organisations that are inspected by MHRA and need to keep up to date with the latest thinking and guidelines.
It will give our inspectors a chance to speak directly to the organisations they inspect and get feedback from them on topics they would like to hear more about. Areas the blog will cover include:
compliance management approaches
data integrity
preventing drug shortages
significant findings from our inspections
supporting innovation and our work with the MHRA Innovation Office
upcoming learning opportunities
The first article, from Mark Birse, Group Manager of the Inspectorate at MHRA, introduces the exciting new platform and gives users an idea of what to expect from the blog. Mark says:
A large part of our role in the MHRA Inspectorate involves engaging with our many stakeholders. This new platform gives us an excellent opportunity to talk directly to those stakeholders in a less formal way and help them maintain compliance and engage with us on issues that are important to them.

It will also give stakeholders and opportunity to give us their thoughts and comments and will encourage a beneficial two-way conversation between us at MHRA and those working in industry and academia.
Published 23 June 2015