News story
New members for the First World War centenary advisory group announced
Culture Secretary marks International Women's Day by announcing Kate Adie and Mary Beard to join advisory group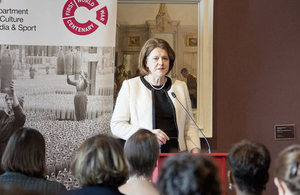 Culture Secretary Maria Miller today highlighted the unique role of women in the First World War saying that then, as now the contribution of women is often overlooked. Her remarks were part of a speech to mark International Women's Day which focussed on the progress women have made in the hundred years since the First World War, in the workplace, education, and in society more generally.
In a speech at IWM London, Mrs Miller announced that Kate Adie and Mary Beard will both join the First World War centenary advisory group, overseeing and advising government on the four year nationwide programme of events.
See images from the event on Flickr
As part of her keynote speech to an audience of eminent women, Mrs Miller also announced that:
The Leeman Road District War Memorial in York will be 'listed' commemorating the women killed in an accidental explosion at Barnbow munitions factory in 1916;
The First Aid Nursing Yeomanry (Princess Royal's Volunteer Corps) who provided a first-aid link between the front line and field hospitals during the First World War, will receive a grant of £20,000 to help them as they continue their work today providing response teams during major incidents in London; and
The Heritage Lottery Fund will be making grants to a number of projects across the country specifically commemorating the role of women including projects in Thanet, Dorset and the North East.
Culture Secretary Maria Miller said:
As we approach the First World War centenary, it is right that we ensure the sacrifices made by women are not overlooked and also reflect on how women's lives have changed in the intervening years. Yes, we have come a long way, but we need to continue to challenge the unfairness and prejudice that can still hold women back.
Commenting on the appointment of Kate Adie and Mary Beard to the First World War Advisory group, Mrs Miller said:
Both Kate Adie and Mary Beard are immensely successful women in their respective fields and their perspectives will be invaluable on the First World War centenary advisory group. I'm delighted that we are able to offer support to a range of other projects that will help recognise the role of women throughout the War.
Further information
Read more about HLF grants
Published 6 March 2014