Press release
New members appointed to the Regulatory Policy Committee
Four new committee members have been appointed to the independent Regulatory Policy Committee.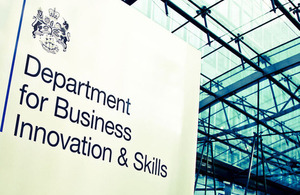 Four new committee members have been appointed to the independent Regulatory Policy Committee, Business Minister Matthew Hancock announced today (3 March 2015).
Nicole Kar will serve as a new committee member, replacing Dr Ian Peters. Alexander Ehmann and Jeremy Mayhew have been re-appointed.
Jonathan Cave will also replace Professor David Parker as an economist committee member.
The RPC assesses the impact on business of new regulatory proposals put forward by government.
Business and Enterprise Minister Matthew Hancock said:
The Regulatory Policy Committee has rightly been applauded by business for the robust, independent scrutiny it provides of the burden of regulation on business.

The appointees bring important expertise and experience and will play a vital role in supporting the government's drive to reduce red tape. We are proud to be the first government in modern history to have reduced the burden of regulation – as measured by this independent committee.
Chair of the Regulatory Policy Committee Michael Gibbons said:
The refreshing of the committee with the appointment of new members will ensure the continued high quality and robust analysis of impact assessments, as well as provide new expertise and different perspectives.

This will reaffirm the value of the committee's important independent scrutiny. The reappointment of experienced members for another term will also ensure that the experience developed over this Parliament continues to deliver benefits. I would like to thank David Parker and Ian Peters for their commitment and service.
The appointments have been made following an open process. Committee members serve between 3 and 4 years, with the option of reappointment.
Jonathan Cave (JPEG, 54.7KB)
Jonathan Cave has been Senior Teaching Fellow in Economics at the University of Warwick since 1994. For more than 30 years, he also worked for the RAND Corporation most recently as Senior Research Fellow at RAND Europe. He has previously been a visiting professor, research fellow and lecturer at several universities in the US, including UC Los Angeles. Before entering academia, he was an economist at the Bank of England and later the US Federal Trade Commission. Jonathan is a Member of Defra's Science Advisory Council Exotic Disease Subgroup. Jonathan holds no other public appointments and has not undertaken any party political activity.
Alexander Ehmann (JPEG, 58.5KB)
Alexander Ehmann is Head of UK Public Affairs at Tata Limited, and represents the Tata business presence in the UK. This includes large businesses, such as Jaguar Land Rover, Tata Consultancy Services and Tata Steel as well as a number of UK based small and medium-sized businesses. Previously, Alexander was Deputy Director of Policy and Public Affairs at the Institute of Directors (2006 to 2014), and External Affairs Adviser at PhonePayPlus, a telecommunications regulator (2004 to 2006).
Alexander has been a member of the Regulatory Policy Committee since 2012 and holds no other public appointments. He is a member of the Liberal Democrat Party and since May 2014 has been a Councillor for St Margaret's and North Twickenham Ward in the Borough of Richmond upon Thames, London.
Nicole Kar (JPEG, 5.2KB)
Nicole Kar is a partner at Linklaters LLP, where she is a specialist in EC and UK competition law. Before joining Linklaters in 2001, Nicole was a Solicitor of the Supreme Court of Queensland and a Solicitor and Barrister of the Supreme Court of Victoria. Nicole is also vice chair of the Competition Committee of the City of London Solicitors' Company, a trustee of the Mary Ward Settlement and a committee member of Peace Brigades International's Alliance for Lawyers at Risk. Nicole holds no other public appointments and has not undertaken any party political activity.
Jeremy Mayhew (JPEG, 5.24KB)
Jeremy Mayhew is a Senior Adviser at PwC Consulting. His professional career has mainly been in the media and broadcasting industry, both at the BBC and as a consultant. Jeremy has served on the Regulatory Policy Committee since 2012 and holds a number of other appointments; since 1996, he has been an independent Common Councilman on the City of London Corporation, where he is now Chairman of the City Bridge Trust Committee and a Deputy Chairman of the City's Policy and Resources and Finance committees. He is a former chairman of the Barbican Centre Board and has, previously, served on the boards of BBC Worldwide, the Strategic Rail Authority, and the London Development Agency and as a non-executive adviser to the Mayor of London's Office for Policing and Crime. He is a member of the Conservative Party.
Published 3 March 2015