News story
New measures unveiled to protect people if care providers fail
New measures were announced today to protect people who rely on care services in the event their care home or service provider goes into administration.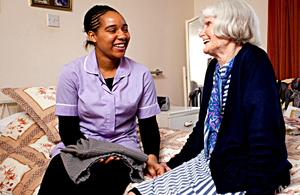 Care and Support Minister, Norman Lamb, today announced legislation would be introduced to give the Care Quality Commission (CQC) powers to oversee the financial stability of the largest and most difficult to replace care providers.
The role of local authorities is also being clarified so that, if a care provider fails, local authorities will have ultimate responsibility for ensuring continuity of care for all people receiving care regardless of who is funding the services.
The CQC's oversight of finances, and the clarity of the local authority role, will give people who depend on care providers, along with their families and carers, an added level of assurance that their care needs will continue to be met.
Care and Support Minister, Norman Lamb said:
Everyone who receives care and support wants to know they will be protected if the company in charge of their care goes bust.
The fear and upset that the Southern Cross collapse caused to care home residents and families was unacceptable. This early warning system will bring reassurance to people in care and will allow action to be taken to ensure care continues if a provider fails.
The new powers are subject to Parliamentary approval. They were consulted on earlier in the year and the department has today published the formal consultation response.
This is part of wider work to improve standards and quality across the care sector and was first announced in the Care and Support white paper in July 2012. The department has progressed other initiatives in the sector to improve quality of care, including a website bringing together comparative information about care in local areas, and a Code of Conduct and Minimum Training Standards of care for adult social care.
Published 4 May 2013