Press release
New measures to cut delays at Heathrow
Trial of new measures at Heathrow airport.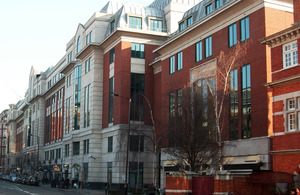 Passengers using Heathrow and communities around the airport could benefit from reduced delays, less stacking and fewer unscheduled night flights at the UK's busiest airport as part of a trial of new measures announced today (14 July, 2011) by Aviation Minister Theresa Villiers.
The measures are set out in the final report by the government's South East Airports task force which has been published today. They are focused on making Heathrow more resilient and better able to recover on days when the airport's operations are disrupted by poor weather or other problems. When such problems occur, these proposals would allow, exceptionally, both Heathrow's runways to be used simultaneously for either arrivals or departures as a way to cut delays and cancellations and get punctuality back on track.
The task force also endorsed plans for a switch to a smarter, more effective and more passenger-friendly airport security regime for all UK airports - details of which have also been published today for consultation.
Set up to identify operational improvements at the UK's three busiest airports - the South East Airports task force included representatives from airlines, airport operators, regulators and other interests.
Aviation Minister Theresa Villiers said:
Heathrow, Gatwick and Stansted airports play a vital role in supporting the UK economy. Improving the reliability of these airports, particularly Heathrow, was a priority for the task force.

These measures have the potential to deliver greater reliability for passengers, while reducing the impact of unscheduled night flights on local communities. Trialling these changes will allow their benefits and impacts to be assessed and there will be extensive engagement and consultation with local communities before any decision is taken on whether to make the changes permanent.

Coupled with today's proposals to give UK airports more flexibility in the way they deliver airport security, passengers should begin to see real improvements. I am grateful to all task force members for working so constructively together to help make our airports better.
Under existing arrangements, Heathrow operates largely on a runway alternation system, whereby one runway is used for arrivals and the other for departures - with the roles reversed halfway through the day to provide respite from noise for residents living near the end of the runways. The government has made clear its support for the continuation of runway alternation.
Currently, BAA are permitted, under certain circumstances, to use both runways simultaneously for arrivals to clear major backlogs of flights waiting to land - a process known as Tactically Enhanced Arrival Measures (TEAM). Under the proposals put forward today, there would be more flexibility for the operator as to when these measures would be used and this approach would be extended to cover departures.
Trials of the new measures will be run over the autumn and next summer. They will be overseen by the Civil Aviation Authority, the UK's independent aviation regulator, and will involve BAA working closely with local residents to ensure transparency, take account of their views and monitor the impact of such operations on those communities nearest the airport.
The task force's proposals will now be taken forward by the airports and the government will reconvene the group in a year's time to review the progress made.
The government announced its intention to change the way aviation security is regulated in October, and has today published proposals for consultation. Over recent years, the regulation of aviation security has been largely focused on a series of prescriptive security processes which airport operators are required to follow.
Under the proposed changes, operators will instead be required to deliver a series of security outcomes. This will give them flexibility to devise more tailored, innovative and passenger-friendly processes to achieve the required outcomes. Drawing on the highly successful approach taken to aviation safety, these reforms are expected not just to maintain today's high levels of security, but to enhance them by embedding and encouraging a culture of improvement in the methods of delivering security.
Notes to editors
The South East Airports task force was formed in June 2010. Membership comprises:
BAA Heathrow
BAA Stansted
Gatwick airport
Civil Aviation Authority
NATS
British Airways
Virgin Atlantic
easyjet
Ryanair
Air Transport Users Council (functions now transferred to CAA)
London First
Aviation Environment Federation
Airport Operators Association
The final report of the task force, along with reports from the Punctuality, Delay and Resilience sub-group can be found on the DfT website.
Over the course of a year Heathrow operates normally for around 300 days ('green days'), experiences moderate disruption on around 50 days ('amber days') and severe delays on 15 days where on-the-day recovery is not possible.
The trial of operational freedoms at Heathrow will run in 2 phases. Following engagement with local communities, the first phase will run from November 2011 to February 2012, followed by a further period of public engagement to assess the impact on local communities. The second phase will run from July to September 2012, with the added benefit of providing increased resilience during the Olympic games. The measures are only to be used to recover from serious disruption, and the government will now work with BAA and the CAA to develop a series of safeguards.
These tactical procedures are different from "mixed mode" which involves planned arrivals and departures from both runways throughout the course of the day. The government has been clear that it remains committed to runway alternation at Heathrow.
Details of the proposals for a new outcome focused, risk-based security regime. The consultation is due to close on 7 November 2011.
Aviation and maritime media enquiries
Media enquiries 020 7944 3021
Out of hours media enquiries 020 7944 4292
Switchboard 0300 330 3000
Published 14 July 2011