News story
New measures to breathe life into empty buildings and boost growth
New measures coming into force ensure the very best use is made of empty and underused buildings.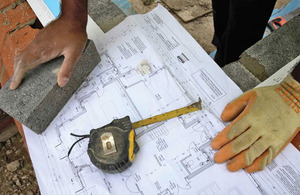 These measures ensure the very best use is made of empty and underused buildings, to provide much needed homes and businesses, Communities Secretary Eric Pickles announced.
The changes will bring buildings back to life by reducing costs, cutting bureaucracy and making it easier to change them to other uses. Providing a boost to rural communities by backing vibrant local high streets and town centres, the measures demonstrate the government's determination to support local growth and the ambitions of businesses and homeowners looking to make better use of existing and vacant buildings.
New permitted development rights will enable offices to be converted to homes. This is an opportunity for office owners and developers to bring outdated and underused buildings back to life and create much needed new housing.
The changes support the implementation of recommendations from the Mary Portas high street review to reduce restrictive 'change of use' red tape by allowing buildings to be used for other purposes. People looking to test out new businesses, start-up ideas and pop-up ventures will be able to do so much more quickly without costly delays from seeking permission to change the use of a building.
High street premises will be able to be used for new types of business without permission and existing agricultural buildings, under 500m2, will be able to be utilised for a range of new uses such as shops or offices, to provide more chances for rural businesses to diversify.
In a move to assist the government's free schools agenda, a series of measures will also facilitate the conversion of existing buildings to become new state-funded schools.
Communities Secretary Eric Pickles said:
There is huge untapped potential in the many disused existing buildings we have and we're determined that every one of them is put to good use.

By simplifying the process and relaxing some stringent rules we can provide a helping hand to those eager to boost their high streets or rural communities by cutting the time and costs needed to start up new businesses.

These reforms will provide a boost to the exciting free schools programme. It will make it easier for parents and community activists to convert buildings into new schools.

We're also providing a great opportunity for outdated, redundant or underused offices to be brought back to life by converting them into homes, protecting the green belt and countryside at the same time. This will also increase footfall and provide knock-on benefits to the wider community.
Further information
The secondary legislation laid today amends the Town and Country Planning (General Permitted Development Order) 1995. The statutory instruments come into force on 30 May 2013.

The written ministerial statement can be found on the DCLG website.

There are areas in 17 local authorities in England consisting of individual buildings, roads or zones that are exempt from new rights to convert offices to homes, following careful assessment of all the cases submitted. They are in the City of London and the London boroughs of Camden, Islington, Hackney, Tower Hamlets, Southwark, Lambeth, Wandsworth, Westminster, Newham, and Kensington and Chelsea. Other areas are in the borough councils of Vale of the White Horse, Stevenage, Ashford (Kent), the district councils of Sevenoaks and East Hampshire, and Manchester City Council.

To create flexible accommodation for new and start-up businesses, and allow other businesses to adapt swiftly to changing conditions, buildings that are classed for use as retail, financial services, restaurants, pubs and hot food takeaways, offices, leisure and assembly uses can temporarily change to another use class. They can be used for retail, financial services, restaurants and cafes and offices for a single period of up to 2 years.

Existing agricultural buildings under 500m2 can change to a number of other business uses. For buildings between 150m2 and 500m2, prior approval is required, to ensure that the change of use does not create unacceptable impacts (such as noise or transport problems).

We are also increasing the thresholds for business change of use, increasing from 235m2 to 500m2 for change of use from offices and general industrial use to storage and distribution, and from general industrial and storage or distribution to offices. This will help provide vital flexibility to enable the quick responses necessary to support business growth.

Premises that are offices, hotels and assembly or leisure use classes are able to change use permanently to a state-funded school (subject to prior approval covering highways and transport impacts and noise). A temporary permitted development right is being introduced which allows a building in any use class to be used as a state-funded school for 1 academic year to help deliver new schools and allow for minor associated physical development.

The requirement for prior approval of siting and appearance of fixed broadband infrastructure has been relaxed for 5 years to encourage operators to invest in this key provision in rural areas.

Homes and business owners will also be able to extend their properties for a 3-year period as part of new permitted development rights. Mindful of adjoining residential neighbours' amenity a light-touch neighbours' consultation is being introduced
Published 9 May 2013