Press release
New measures build on progress protecting childhood
The government announces that more DVDs are to carry an age rating, more is to be done on online age ratings and WiFi will be family friendly.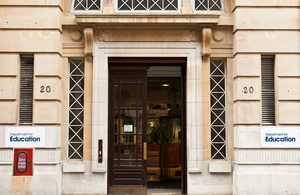 Age ratings will be given to a range of video content that is currently exempt - such as some music and sports DVDs - so that those unsuitable for younger children will have to carry a British Board of Film Classification (BBFC) age rating in future.
The government is also announcing plans for public WiFi providers to filter websites in public places to give parents the peace of mind that children will be protected from inappropriate websites when away from home.
The announcements come alongside the publication of the government's Bailey Review, assessing the impact of measures to tackle the pressures on children to grow up too quickly.
Video Recordings Act
The government is publishing the response to its recent consultation on the Video Recordings Act which addresses concerns about the exemptions from age rating that are currently given to a range of music, sports, religious and educational DVDs and Blu-Ray discs.
The Video Recordings Act will now be changed so that any of these products that are unsuitable for younger children will have to carry the familiar '12', '15' and '18' BBFC age ratings in future. The changes are expected to come into force in 2014.
Communications Minister Ed Vaizey said:
Government realises that the world has moved on since these exemptions were written into the Video Recordings Act some 30 years ago.

The changes we've announced today will help ensure children are better protected, and that parents are provided with the information necessary for them to make informed choices about what their children view.
In order to help ensure parents can make more informed decisions about the material their children watch online, ministers are also calling on industry to develop solutions so that more online videos - particularly those that are likely to be sought out by children and young people - carry advice about their age suitability in future.
Public WiFi
Wireless internet providers are also working with government to make their publicly available WiFi family friendly in places where children regularly visit, and ensure children are protected from harmful content.
Significant progress has already been made and where the big providers are not already doing so they will now:
automatically block pornography websites
or encourage their business partners to adopt filtering services at sites where children may have access to their free WiFi service
Edward Timpson, Children and Families Minister, said:
Parents need to be confident that their children are not exposed to adult content when out and about in public places. This progress is encouraging.

Through the UK Council for Child Internet Safety (UKCCIS) we will push for a firmer commitment from WiFi providers, retailers, shops and cafes so parents are reassured their children will not be able to access pornography when they are away from home.
To build on this progress, the 6 main providers (Arqiva, BT, Nomad, Sky, Virgin and O2) are working with UKCCIS Executive Board members to consider whether it would be helpful to have a mark of approval or an industry code of practice.
Vince Russell, managing director of The Cloud, a BSkyB company:
In full support of the Bailey review, BSkyB became the first public WiFi operator in the UK to automatically filter adult content across its entire network. As both a responsible business and the largest WiFi provider on the high street, we wanted to give parents the peace of mind that their children are protected when they access content outside the home.

This commitment was first demonstrated in 2007 when we pioneered offering venue partners the opportunity to filter adult content. And with filters now active right across our 18,000 hotspots, we're proud of our continued leadership in this area.
These measures come on top of plans announced at the end of last year to help parents protect their child online in the home. Steps announced in December mean that parents will be prompted to tailor their internet filters to protect their children and that if they don't make choices, protection will be automatically on.
Bailey Review
Today's stocktake comes 18 months after the independent Bailey Review, headed by Chief Executive of the Mothers' Union, Reg Bailey. The Bailey Review made a number of practical recommendations to the businesses, broadcasters and regulators to tackle the commercialisation and sexualisation of children.
The stocktake has found that good progress has been made on a voluntary basis, including:
British Retail Consortium, who are today producing updated guidance for their members on responsible childrenswear retailing - many major retailers have signed up to these guidelines or are including their principles in their business practices
Ofcom, the Advertising Standards Authority and all the other main media regulators have set up the ParentPort website, a single point of call for parents who wish to complain about a programme, advert, product or service and providing a range of useful information about media and technology.
the BPI has extended its parental advisory scheme to the online world, so that explicit songs and videos should now be labeled as such and are continuing to work with government to ensure that parents have the best information possible. Government is also calling for more progress on online content to be made this year, with industry developing further solutions so that more online videos carry advice about their age suitability.
broadcasters have listened to the views of parents and issued new guidance to broadcasters on family viewing to ensure that viewers are less likely to be confronted with stronger adult material, before or immediately after the watershed.
UKCCIS has helped to ensure the 5 main ISPs develop and implement free and easy to use parental controls. And going further, they have committed to providing parental controls which will cover all devices in the home by the end of the year.
Reg Bailey said:
It is almost 2 years since the publication of my report, and I have been pleased to see that many parts of industry have risen to the challenge, with good progress made against my recommendations. As to the future, I want to see this stocktake reinforce that there is a need for a cultural change in how businesses and regulatory bodies put the protection of children at the heart of what they do. It is early days but I believe this is now underway. By supporting parents to do their job, we can all make sure that children are allowed to be children.
Notes to editors
as part of the review we commissioned research to investigate whether the experience and behaviour of parents and children had changed since the initial research was conducted before the Bailey Review was conducted in 2011
if parents repeatedly click 'yes' to get through parental controls set-up quickly then that would lead to protection being on rather than off
the new rules on educational DVDs will apply to new products
DfE enquiries
Central newsdesk 020 7783 8300
General enquiries 0370 000 2288
Published 24 May 2013