Press release
New layout for road over M1 as major scheme gathers pace
The layout of a local road which crosses over the M1 near Dunstable in Bedfordshire is set to be re-designed at the end of the month as part of the ongoing A5-M1 link scheme.
The B579, also known as Luton Road, in Chalton, will be closed either side of the M1 overbridge from Friday 25 September to link it to the new road layout, as work continues on building a new junction 11A for the motorway.
When the road reopens on Monday 28 September, traffic will no longer cross the M1 via the Luton Rd bridge, but will instead be redirected to cross via the Sundon Rd bridge.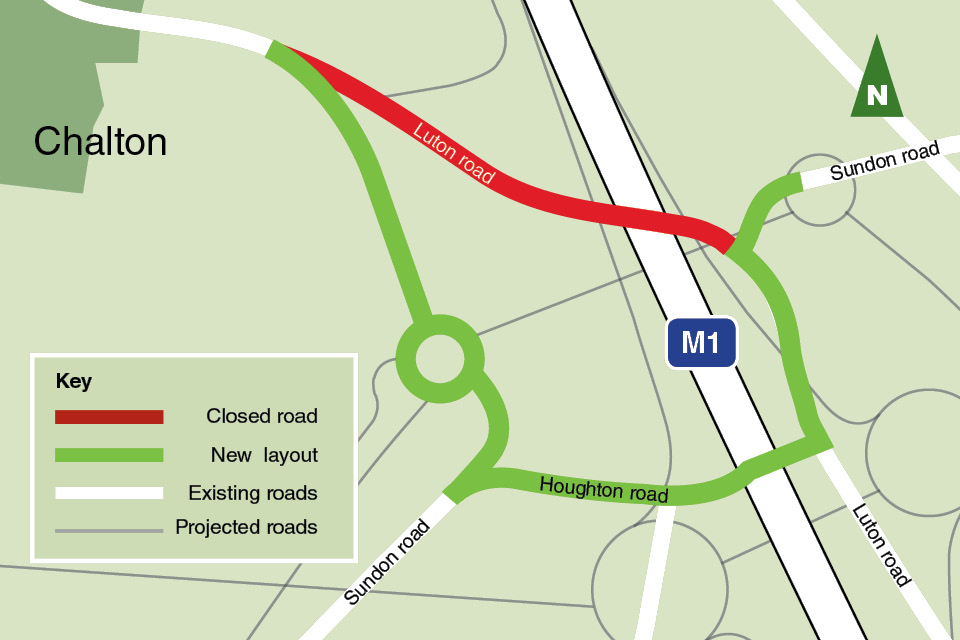 The work, which will involve planing the old road and installing drainage at the junction with the new road and surfacing the tie-in section of roads, will take place from 8pm on the Friday to 6am on the Monday.
During the work, traffic travelling north on the B579 Luton road at Chalton will be diverted through Toddington, via the A5120, through Houghton Regis and onto Sundon Rd to cross the M1 at Houghton Road. Traffic travelling south on the B579 Luton road at Chalton will use the same diversion in reverse.
Highways England project manager Karen Green said:
This work is an important step in the construction of junction 11A, as it will enable us to prepare for the next phase – the construction of the new junction bridge and demolition of the old bridges. The new link road will be a major new bypass for Dunstable, reducing congestion and improving safety on the A5, and reducing pressure on the A5 through Dunstable town centre. Work on the project is progressing well.

The work is likely to be noisy so we have made sure local residents have been informed and know what to expect. As always, we work closely with our contractor and local partners to ensure disruption during this work is kept to a minimum.
Work on the link road began in March, and construction of the new junction started on Wednesday 17 June. The work is part of a new link road between the A5 and the M1 that will help to unlock growth and reduce congestion in the area.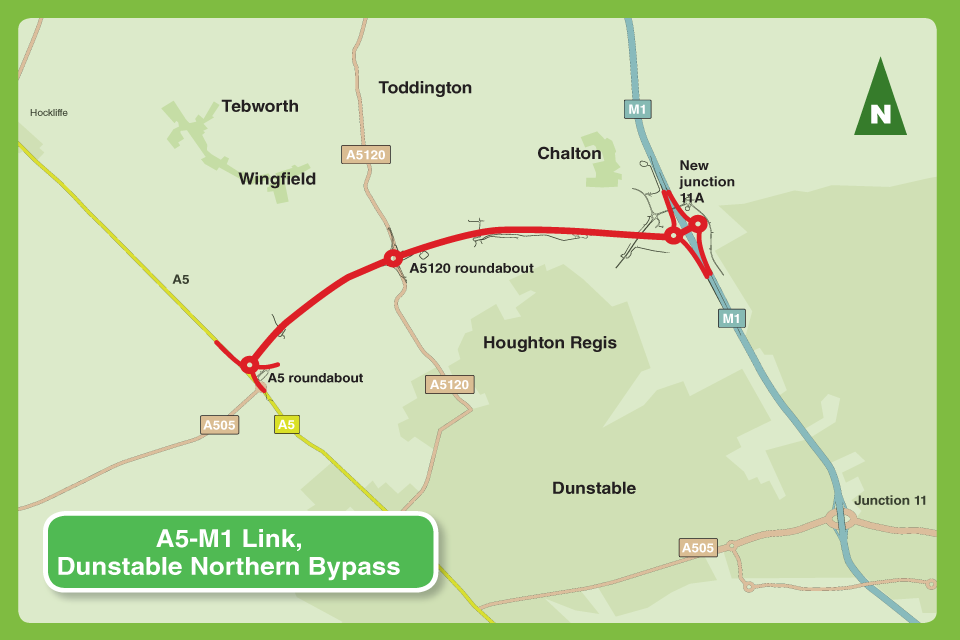 Once completed in spring 2017, the link road, a new 2.8 mile dual carriageway, will improve the east-west connection between the A5 and M1. Earlier this year, Transport Secretary Patrick McLoughlin attended the official start of works ceremony for the £162.1 million scheme.
To register for updates, visit the scheme web page or call the Highways England Customer Contact Centre on 0300 123 5000.
You can also watch a video simulation of the scheme.
General enquiries
Members of the public should contact the Highways England customer contact centre on 0300 123 5000.
Media enquiries
Journalists should contact the Highways England press office on 0844 693 1448 and use the menu to speak to the most appropriate press officer.