Press release
New investment will provide thousands more affordable homes
Housing associations can bid for a share of around £800 million of government funding to provide more affordable homes.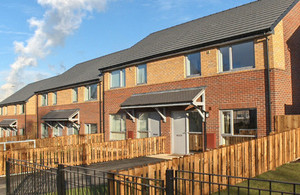 Housing associations can bid for a share of around £800 million of government funding to help provide thousands more affordable homes across the country, Housing Minister Brandon Lewis said today (23 October 2014).
This builds on the £886 million available through the first funding round in July and which resulted in initial allocations for 2,697 firm schemes that will provide 43,821 new affordable homes. Today's second funding round takes the total figure for government investment in affordable housing to more than £1.7 billion for 2015 to 2018.
Taken together with private finance this will result in total investment of around £23 billion and lead to the fastest rate of affordable housebuilding for 2 decades with 165,000 new affordable homes from 2015.
Mr Lewis said the programme has already been a key part of government efforts that have got Britain building, and will ensure this success continues for years to come.
Government delivers on affordable housing
Housebuilding is a critical part of the government's long-term economic plan – turning around the after-effects of the 2008 housing crash that led to the lowest level of housebuilding for any peacetime year since the 1920s.
Since 2010, the government has provided 204,000 new affordable homes, while the first phase of this latest investment has funded schemes that will provide a further 43,821 new affordable homes from 2015.
We are also keen to promote greater use of innovative construction methods, for example advanced manufacture technologies and bids from providers which make use of such methods are encouraged.
Housing Minister Brandon Lewis said:
The government is delivering on affordable housing for the communities and people of this country with more than 200,000 new affordable homes since 2010.

Our latest investment is a clear sign of the government's continued commitment to increasing the overall housing supply and affordable housing in particular. As well as building homes this funding is also a key part of our long-term economic plan, creating construction jobs as we deliver a further 165,000 new affordable homes from 2015.

The fund will be managed through an open ended bidding process allowing housing associations to apply for funding at any time rather than by a fixed deadline. This will enable them to bring forward schemes for delivery during the 2015 to 2018 period which will include specialist, supported or rural housing, which can often require a longer lead time.
Affordable homes provided across the country
The Affordable Homes Programme includes, affordable rented homes and affordable home ownership schemes, and is a key part of the government's long-term economic plan. And with every new home supporting a job this multi-billion pound programme is helping get people back into work.
A fifth of the affordable homes provided last year, and nearly a quarter of the total since 2010, were provided in London.
The success of the Affordable Homes Programme is one of a number of indicators that England is building following the housing crash in 2008.
Others include:
planning permission was granted for 230,000 new homes in England in the last 12 months – equating to planning permissions for 630 homes a day
the Help to Buy schemes have helped over 53,000 people in England get on the property ladder with a fraction of the deposit they would normally require – leading developers are building more as a direct result of the scheme, with private housebuilding up a third compared to last year
annual council housebuilding starts in England are at a 23-year high
housing starts in England are at their highest since 2007
the numbers of empty homes in England are now at a 10-year low
Further information
See the current allocations list under the initial phase.
See the breakdown of affordable housing supply by local authority district.
All schemes tabled for consideration will be subject to rigorous assessment, based on meeting local priorities, value for money and deliverability.
Office address and general enquiries
2 Marsham Street
London
SW1P 4DF
Contact form http://forms.communiti...
General enquiries: please use this number if you are a member of the public 030 3444 0000
Published 23 October 2014