News story
New investment to strengthen Gibraltar relationship
A package of new measures announced by the Defence Secretary has reaffirmed the UK's support to Gibraltar.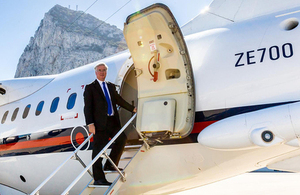 On his first visit since becoming Secretary of State, Michael Fallon paid tribute to those working to support defence activities in Gibraltar and emphasised the strategic importance of the permanent joint operating base there.
The Defence Secretary said:
During a period of immense global instability, let there be no doubt that the UK remains absolutely dedicated to ensuring the defence and protection of Gibraltar, its people and British Gibraltar Territorial Waters.
He discussed unlawful incursions into territorial waters by Spanish state vessels, and stressed the UK's commitment to upholding Gibraltar's sovereignty with a range of naval, police and diplomatic responses.
Mr Fallon said:
My visit proves once more that the UK takes Spanish incursions very seriously, and will continue to deal robustly with them.
Mr Fallon met with the Chief Minister of Gibraltar, Fabian Picardo, and signed an agreement under which the UK and Gibraltar will equally share the cost of the first resurfacing work at Gibraltar Airport in 20 years.
The improvement will support both commercial and military use of Gibraltar Airport.
The Defence Secretary welcomed the Chief Minister's commitment to introduce legislation to place the Royal Gibraltar Regiment on the same footing as its British Army counterparts, highlighting its valuable contribution both in Gibraltar and deployed on operations.
Published 16 October 2014