Press release
New 'inspired by 2012' brand to keep the legacy flame alive
Sport and community projects inspired by London 2012 will now be able to celebrate and share that inspiration with a new brand unveiled today by Culture Secretary Maria Miller.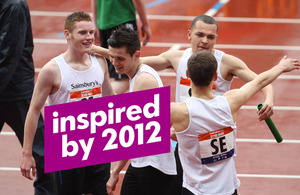 029/13
The 'inspired by 2012' brand is a new Government initiative to bring together the legacy projects inspired by the 2012 Olympic and Paralympic Games and the Diamond Jubilee under a single banner. It will celebrate the success of the projects and help them promote themselves to the public.
The logo will be used widely by a range of organisations connected to the events of 2012 - from projects encouraging more people to take up sport, to groups promoting volunteering. It will help to continue to harness and promote the huge amount of goodwill and enthusiasm generated last summer.
Culture Secretary, Maria Miller said:
Last year was a summer like no other, showcasing the best of Britain and bringing together people and communities right across the country. We are determined to make that feeling of inspiration and enthusiasm last. One of the strengths of the 2012 legacy is that it means many different things to different people. The new 'inspired by 2012' brand will help all the great projects connect with each other and with the public, making the most of the 2012 magic.
Sebastian Coe CH, KBE, the Prime Minister's Olympic and Paralympic Legacy Ambassador said:
We enjoyed one of the greatest summers in living memory last summer with the Olympic and Paralympic Games and the Diamond Jubilee and the world saw the very best of what Britain has to offer. Over the next ten years the Games' legacy will be delivered across the UK through a great variety of organisations and projects. The 'inspired by 2012' brand is a great way to give some of these projects a link to each other and the Games' legacy and will help people recognise the breadth of the legacy.
The brand was unveiled by the Culture Secretary during a visit today to the Festival Wakeboard Park in Basildon, Essex where Sport England announced £24 million to expand and extend its successful Sportivate programme. Mrs Miller also announced that Sportivate will be one of the first legacy projects to use the brand, along with Join In, Big Lottery Fund and Our Big Gig.
Sportivate is a key part of Sport England's legacy from the London 2012 Games. So far, almost 190,000 teenagers and young adults have benefitted from free or discounted six-to-eight week sports coaching courses through the Sportivate scheme.
London 2012 gold medal winner, Joanna Rowsell said:
It's fantastic that Sportivate is helping so many young people to discover a new sport. I only started cycling when I was 15 and it changed my life. Sport can be amazing if you find the one that's right for you. Whether you want to get serious about it or concentrate on the fun of taking part, Sportivate can help you to get involved.
Sport England's Chief Executive, Jennie Price, said:
Sportivate's success is built on listening to what young people want from sport and then giving them great opportunities to get involved. With a wide range of traditional and non-traditional sports on offer, lots of young people are getting active and discovering a sport they're motivated to keep on playing.
Notes to editors
The 'inspired by 2012' brand is an initiative led by DCMS and Cabinet Office to bring together legacy projects inspired by the 2012 Olympic and Paralympic Games and the Diamond Jubilee under a single brand. This brand will enable them to promote themselves, and be recognised by the public, as legacy projects.

To see more legacy stories and pictures go to the 'inspired by 2012' Facebook page

More information on how the Government is creating a lasting legacy from the 2012 Olympic and Paralympic Games

Sportivate is a Lottery funded legacy project that was publicly launched in June 2011 as a four-year (£8m each year) programme aimed at 14- to 25-year-olds who weren't doing sport in their own time. From September it will also be opening up Sportivate to 11, 12 and 13 year-olds to help young people make the shift from school to club sport. As a result of the additional funding announced today, Sport England will invest £10 million a year of Lottery funding in Sportivate between April 2013 and March 2017.

Join In started in 2012, on the weekend between the end of the Olympics and the start of the Paralympics which saw 300,000 people taking part in the inaugural Join In by going back to where it starts for every great champion: their local sports club. The aim of Join In is to encourage people to help out at sports clubs and community groups around the UK. Join In Local Sport is managed and run by the registered charity, The Join In Trust Limited. Funded by government grant, it is endorsed by the Sports Councils and National Governing Bodies of sport, as well as many local and regional sporting organisations.

Superact, a not-for-profits arts organisation, are delivering a nationwide "Our Big Gig" project on behalf of Department for Communities and Local Government using music to bring communities together by encouraging participation and ongoing involvement, for example through formation of new music groups or community choirs. As well as delivering a mass-participation event from 11th to 14th July, Superact will provide targeted support over a longer period to ten priority areas facing integration challenges. The project builds on the success of Bandstand Marathon which was part of the Cultural Olympiad."

Big Lottery Fund is responsible for distributing £600 million each year (40 per cent) of all the money raised for good causes by the National Lottery. This totals around £6 billion since 2004. It also distributes non-Lottery funding on behalf of public bodies such as the Department for Education and the Office for Civil Society and is a non-departmental public body sponsored by the Cabinet Office. In September 2012 the Big Lottery Fund announced its new Spirit of 2012 Trust through which it will invest up to £40m from the sale of the Olympic village in building a lasting legacy from the 2012 Games for communities across the UK.
Published 10 April 2013