Press release
New Innovation and Research Partnership between UK and Singapore welcomed
BIS and the Singapore's National Research Foundation welcome the new UK-Singapore Innovation and Research Partnership.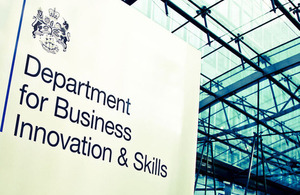 The Department for Business, Innovation and Skills (BIS) and the Singapore's National Research Foundation (NRF) welcome the new UK-Singapore Innovation and Research Partnership.
This partnership, signed by the Prime Ministers of the UK and Singapore, was announced after President Tan's meeting with David Cameron on Wednesday 22 October 2014. It is a joint commitment to leverage both nations' investment in research and innovation to drive economic growth and societal impact.
Martin Donnelly, Permanent Secretary at the Department for Business, Innovation and Skills, said:
Research collaboration is an integral part of the close and trusting UK-Singapore relationship. I am particularly excited by the new agreement extending beyond research to include innovation. As a result it will support our drive to develop new ideas that will enable us to respond to global challenges, increase competitiveness and improve our standards of living.
Singapore's Permanent Secretary for National Research and Development, Ms. Yong Ying-I, said:
The agreement is a celebration of the strong relationship between the UK and Singapore. Building on the strong research foundations that both nations have, this will help translate research outcomes to commercialisation opportunities. This will help grow economies in Singapore and the UK, and enhance societal wellbeing.
The announcement comes as part of the state visit by Singapore's President Tony Tan Keng Yam to the UK. This historic visit, the first by a Singaporean head of state to the UK, has highlighted the many research and innovation links which already exist between the 2 countries.
President Tan visited Imperial College, which has a number of substantial collaboration with Singapore, including the Lee Kong Chian School of Medicine, a joint venture with Nanyang Technological University (NTU). President Tan was also awarded the King Charles II medal by the Royal Society in recognition of his role in the transformation of Singaporean research and education. A subsequent research and innovation forum saw UK companies highlight their successful collaborations with Singapore, including Rolls-Royce's corporate lab at NTU, partly funded by the National Research Foundation.
On Thursday 23 October 2014, Greg Clark, Minister for Universities, Science and Cities, and his Singaporean counterpart Dr Maliki discussed collaboration opportunities in Future Cities. This emerging field highlights the many opportunities for productive partnership, from aligning foresight activities to providing access to testbeds for innovative companies. They also witnessed the launch of a new collaboration between the University of Bristol and NTU to develop technologies for healthy aging.
Notes to Editors
The Innovation and Research Partnership builds upon the UK-Singapore Partners in Science programme, which was launched in 2004 by HRH the Duke of York. Through the Partners in Science initiative, over 50 joint workshops have been organised in areas as diverse as immunology, neuroscience, aquaculture, microelectronics, marine and offshore, future cities, green growth and cybersecurity.

The text of the new agreement is:
UK-Singapore Innovation and Research Partnership

The United Kingdom and Singapore share common aims of using research and innovation to enhance competitiveness and generate prosperity. Our governments, companies and universities have long standing collaborations focused on creating knowledge and boosting the education and skills of future generations.

Singapore and the United Kingdom sit at the crossroads of global flows of knowledge and trade, providing access to the best talent and opportunities in our respective regions. Our partnership is underpinned by the strength of our bilateral collaboration in research and innovation activities. We are also working together to address wider challenges, particularly barriers to development in South-East Asia.

The UK–Singapore Partners in Science initiative, launched in 2004, encouraged joint work on a wide range of scientific topics and has delivered real benefits to both countries. Ten years on we expand our commitment by broadening the partnership to include innovation and the wider research agenda. The successful application of knowledge and research to drive the development and exploitation of ideas will mean that our countries can continue to respond to challenges and changes, increasing competiveness and improving standards of living.

This is a genuine partnership in which both countries will contribute and benefit through a range of approaches such as:

shared learning through exchange and mobility of students, researchers, entrepreneurs and policymakers
co-ordination, joint funding and shared access for research and development activities and infrastructure
joint challenge and prize initiatives, testbeds and support for early stage innovative companies
Implementation of the partnership will be co-ordinated by the National Research Foundation in Singapore and the Department of Business, Innovation and Skills in the United Kingdom. A working group will be formed including representatives from companies and universities with progress reviewed at Permanent Secretary level as necessary.
Published 29 October 2014