New infrastructure plan published by government
Insurance industry announces they will invest £25 billion in infrastructure as government publishes UK plan.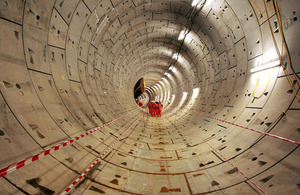 A new national infrastructure plan containing information on over £375 billion of planned public and private sector infrastructure investment has been announced by the government.
The plan sets out investment for energy, transport, flood defence, waste, water and communications infrastructure up to 2030 and beyond.
It comes on the day that six major insurers announce plans to collectively invest £25 billion in UK infrastructure over the next five years.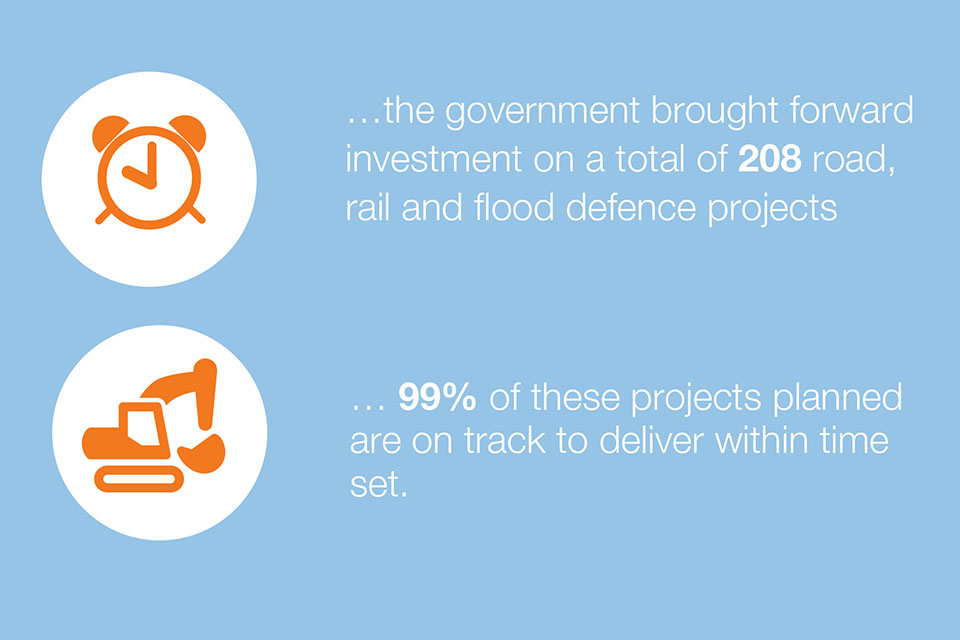 Building on the announcement at the Spending Round 2013 of £100 billion of capital investment in infrastructure projects, the government also announced that it will:
sign an agreement with Hitachi and Horizon to support the financing of the development of a new nuclear power station at Wylfa in North Wales through a UK guarantee, subject to final due diligence and ministerial approval
provide a further £50 million for a full redevelopment of the railway station at Gatwick Airport
confirm strike prices for renewable energy, so that energy providers know how much they will receive for electricity generated in the future
take forward steps to convert public sector car fleets to electric vehicles investing £5 million in a pilot during the year 2014 to 2015
fund improvements to the A50 around Uttoxeter starting no later than 2015 to 2016
confirm that there will be no tolling on the planned A14 scheme between Cambridge and Huntingdon, construction of which is planned to start in 2016
confirm that a UK guarantee has now been agreed for the £1 billion Northern Line extension to Battersea, unlocking a development the size of the Olympics in the Nine Elms area
announce a £10 million guarantee for new energy efficient lighting systems across car parks in the UK
create a new court for infrastructure to avoid unnecessary delays in the planning process for major projects
open a £10 million competitive fund in early 2014 to test innovative solutions to deliver superfast broadband services to the most difficult to reach areas of the UK. Options may include enhanced mobile services, new fixed technologies and alternative approaches to structuring financial support, working closely with the communications industry
build on the Spending Round commitment of £2.3 billion capital investment for flood defences by developing a new long-term plan, including naming key projects by Autumn Statement 2014
double the target for the sale of corporate and financial assets from £10 billion to £20 billion between 2014 and 2020, which could include the government's shareholding in Eurostar
the government will also look at options to bring private capital into the Green Investment Bank to enable it to operate more freely in delivering its objectives
aim to make the UK a world centre for the testing and development of driverless cars. The government will conduct a review to ensure that the legislative and regulatory framework to support this aim reporting late 2014. It will also create a £10 million prize fund for a town or city to develop as a testing ground for driverless cars
The National Infrastructure Plan provides the visibility and improved certainty industry has been looking for in order to commit to big investments.
The Infrastructure Pipeline published alongside the plan is the most comprehensive overview of planned and potential UK infrastructure investment ever produced. It creates certainty for investors and the supply chain, and allows government to work more effectively to ensure that the UK's infrastructure needs are met.
It also acts as a prospectus for investors, identifying key UK private and public sector infrastructure opportunities.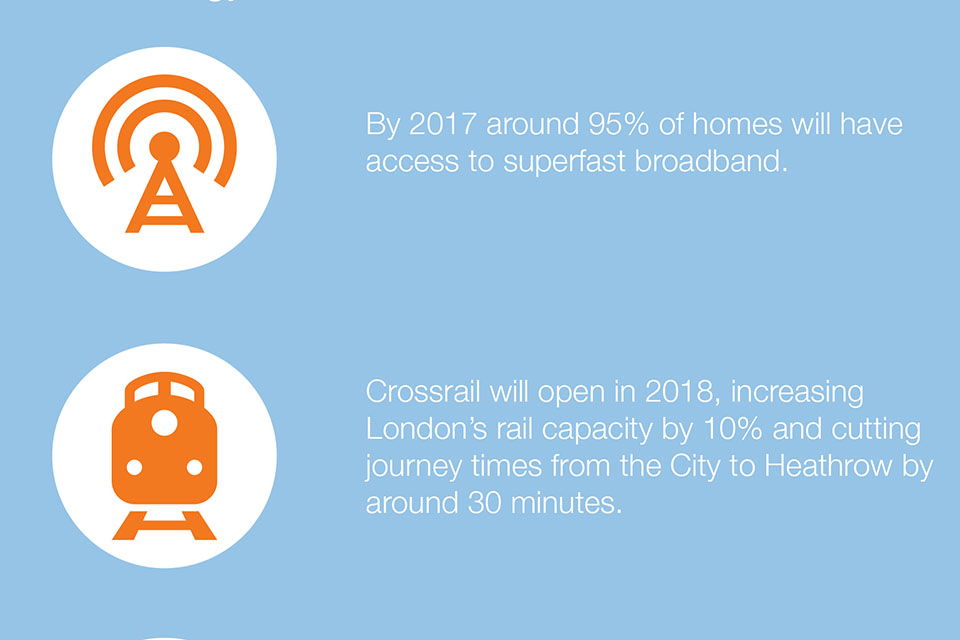 Chief Secretary to the Treasury Danny Alexander said:
The announcement today that six major insurers will invest £25 billion over the next five years is a massive vote of confidence in the UK economy. It supports the wider £100 billion public investment to rebuild Britain over the next seven years that I announced at the Spending Round 2013. Underground, overground, on shore, offshore, wired or wireless, tarmac or train track. You name it, we're building it right now.

This is great news for the people of the UK because after years of neglect, the UK's energy, road, rail, flood defence, communications and water infrastructure needs renewal. It will boost the UK economy creating jobs and making it easier to do business. It will also make the UK a better place to live for everyone who calls it their home.
Commercial Secretary to the Treasury Lord Deighton said:
The fourth National Infrastructure Plan shows that the government is delivering on infrastructure, with a long term strategy to make sure the UK tackles decades of underinvestment and gives us the infrastructure we need to compete in the global race.

Investment is increasing to around £375 billion over the coming years, with 45% of our prospective infrastructure already under construction. We've set out government priorities with clear delivery milestones and reformed planning rules to drive forward the most important projects, making sure we are building the strong, modern economy of the future.
Otto Thoresen, director general of the Association of British Insurers, said:
Insurers have a key role to play in contributing to the UK's economic growth, as providers of long-term capital investment. Providing capital for infrastructure projects will help drive a competitive, healthy and resilient UK economy.
The future infrastructure pipeline, which only includes projects and programmes worth over £50 million, shows that planned investment in infrastructure has increased to over £375 billion from £309 billion last year. Of the 646 projects and programmes in the updated pipeline 291 are already under construction.
Image by PA.
Published 4 December 2013