News story
New immigration rules for Armed Forces families announced
New rules have been announced to ensure Armed Forces personnel are not disadvantaged by immigration rules and family members can integrate into society.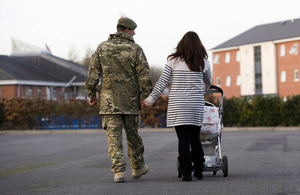 Changes announced in Parliament on Thursday (4 July) aim to make sure families of members of HM Armed Forces are not disadvantaged when applying for settlement or leave to remain.
There will be more flexibility and the rules will take into account the realities of life in the Armed Forces, so that time spent overseas will count as time in the UK for them.
It also means that for the first time Non EEA (European Economic Area) partners and children of Foreign and Commonwealth citizens and of British citizens serving in HM Forces will be subject to a single set of rules.
Aligning Armed Forces familes to Family Migration Policy
It will also align immigration rules for Armed Forces families with the wider family migration policy introduced last summer, ensuring family members are able to integrate into British society and are supported by their sponsor.
These wider changes were not applied immediately to serving personnel and their families while the Home Office and Ministry of Defence conducted a joint review to ensure the Armed Forces would not be disadvantaged.
Immigration Minister Mark Harper said:
I am pleased to announce these changes to the Immigration Rules, which will remove unnecessary differences in the treatment of the dependants of British and Foreign and Commonwealth HM Forces personnel. The Armed Forces community makes a huge contribution to this country and they deserve our respect, support and fair treatment.

Our family migration rules have been introduced to ensure that all family dependants coming to the UK are able to fully participate in British life. We think it is reasonable to align Armed Forces families to these rules as they are more than able to integrate into British society to the same level as any other families.
The new rules will mean that all non-EEA dependants of members of the Armed Forces between the ages of 18 and 65 will need to meet requirements on knowledge of language and Life in the UK before they can settle in the UK, and their sponsor will need to meet the minimum income threshold.
Transitional period
Members of the Armed Forces and their families currently serving may still apply under these temporary arrangements until 30 November, meaning that they will not be subject to the new requirements.
The new rules will come into force for all serving personnel from 1 December 2013. For more information on these changes and what the next steps are for those affected click here
Published 4 July 2013