Press release
New help for consumers and businesses to take action against price fixing
Proposals announced today will make it easier for groups of consumers and companies to take action against anti-competitive businesses.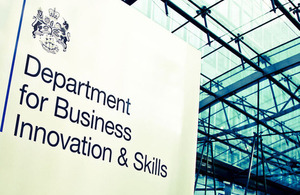 Groups of consumers and companies will find it easier to take collective legal action against businesses acting in an anti-competitive way under new proposals announced by Competition Minister Jo Swinson today. Included in the measures is a new fast-track regime that will help small businesses fight anti-competitive practices that stifle growth.
Currently, when a business fixes prices or carries out other types of behaviour that distort competition, individuals or other businesses that have been harmed as a result often find it difficult and costly to go to court and seek remedies. The changes published today will make it easier for consumers or businesses when they do have a dispute, making sure that the problem is resolved quickly and fairly.
The changes include:
making the Competition Appeal Tribunal (CAT) the main court for competition actions in the UK, including a fast track regime
introducing a new opt-out collective actions regime, with protections, for competition law
promoting alternative dispute resolution (ADR), to make sure that wherever possible any disputes are resolved without resorting to courts
Competition Minister Jo Swinson said,
Competition is one of the great drivers of growth; it keeps our prices low and our businesses innovating. This is why it's important that where there are businesses who abuse their position in the market, those who have been affected can take appropriate action.
I'm pleased to announce these changes which will make sure that consumers and businesses can resolve any disputes quickly and easily, and help them get their money back. Businesses who want to voluntarily offer compensation will be able to do so through collective settlement and will be protected from expensive and lengthy legal action.
Actions like price-fixing or imposing unfair trading terms can really harm businesses, particularly small businesses, and restrict their ability to grow; and that is why we will create a fast-track system in the courts for businesses to restore justice as quickly as possible. These changes will empower consumers and businesses, and continue to improve on the UK's position as a world-class competition regime.
The changes were announced in the government response to the consultation on Private actions in competition law, which proposed improving the way the UK helps individuals or businesses challenge anti-competitive practices in court.
Under the new opt-out collective regime, appropriate representative bodies will be able to take a group or collective action in court, and groups of consumers or businesses will automatically be included in the action. If they don't want to be part of the claim they will have to opt-out.
Businesses accused of anti-competitive behaviour will have several safeguards to make sure that the results are fair for them as well, including making sure that if they lose the case they only pay back what was lost by the consumer or other business and don't face excessive costs. During the consultation, Which? highlighted that in systemic cases of mis-selling, a collective action can offer a better resolution.
Establishing the CAT as the main competition court will allow it to hear more cases and swiftly resolve disputes for consumers and businesses. Businesses will benefit from a new fast track system in the CAT, delivering cheap and quick results.
The changes will ensure that ADR is promoted and used wherever possible, saving time and money for those involved by avoiding lengthy cases and legal fees. As part of this, businesses that have had claims made against them will be able to propose collective settlements to the CAT, allowing them to nip the issue in the bud quickly and with reduced costs.
Which? Executive Director, Richard Lloyd, said,
This will give consumers more power against unscrupulous businesses. In the small number of cases where this will apply, collective legal action and settlements will automatically include everyone who has been affected so more people should get redress and sooner.
The proposals will help to put consumers in the driving seat and will also act as a meaningful deterrent to dodgy or dishonest firms. This is good for consumers, responsible businesses and the wider economy.
Examples of how the changes could benefit consumers and businesses include:
if a number of airlines began to fix prices of fuel surcharges, and every consumer affected paid £50 more for a ticket than they should have, they could be included in a collective action to recoup that £50 for each individual;
if medium-sized car garage suffered losses because of a supplier abusing its position by withholding spare parts to drive up prices, the car garage could put the case to the CAT. If it appeared that prolonging the situation would bankrupt the garage, the CAT could act quickly and fast-track the case to provide an injunction, resulting in the supplier having to restart their supply.
Notes to editors
The consultation response to 'Private actions in competition law', and responses received are available at https://www.gov.uk/government/consultations/private-actions-in-competition-law-a-consultation-on-options-for-reform
Other safeguards within the opt-out collective action regime are:

Strict judicial certification of cases so that only meritorious cases are taken forward
No treble damages
No contingency fees for lawyers
Maintaining the 'loser-pays' rule so that those who bring unsuccessful cases pay the full price

Similar opt out regimes have been introduced in Norway, Canada and Australia and have not led to US style class actions.
The fast-track system in the CAT would not be available for collective actions or what the CAT considers to be novel cases, as these would need longer consideration.
Any unclaimed sums from cases would be allocated to the Access to Justice Foundation (AtJF), in line with the recommendations in the Jackson Review of Civil Litigation Costs and the Civil Justice Council.
The government's economic policy objective is to achieve 'strong, sustainable and balanced growth that is more evenly shared across the country and between industries'. It set four ambitions in the 'Plan for Growth' (PDF 1.7MB), published at Budget 2011:

To create the most competitive tax system in the G20
To make the UK the best place in Europe to start, finance and grow a business
To encourage investment and exports as a route to a more balanced economy
To create a more educated workforce that is the most flexible in Europe

Work is underway across government to achieve these ambitions, including progress on more than 250 measures as part of the Growth Review. Developing an Industrial Strategy gives new impetus to this work by providing businesses, investors and the public with more clarity about the long-term direction in which the government wants the economy to travel.
Published 29 January 2013