New head of National Crime Agency announced
Keith Bristow will be the new head of the National Crime Agency (NCA), the Home Secretary announced today.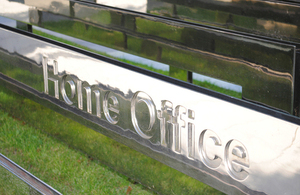 The appointment was made after the current chief constable of Warwickshire police was picked from a field of strong candidates.
Home Secretary Theresa May said:
'I am delighted to announce Keith Bristow as the new head of the National Crime Agency.
'For too long we have lacked a strong, collaborative national response in the fight for criminal justice. The NCA will make the UK a more hostile environment for serious and organised crime and strengthen our border.
'In his new role, Keith Bristow will develop an agency of powerful operational crime fighters who will ensure those who commit serious and organised crime are tracked down, pursued and brought to justice.
'Keith Bristow will be the NCA's first operational head and will play a vital role in developing the new agency.'
Warwickshire Chief Constable Keith Bristow said:
'The NCA will protect communities and individuals from harm by tackling serious, organised and complex crime. In partnership with other law enforcement agencies we will ensure that criminals are identified, pursued and brought to justice; their groups dismantled and their activities disrupted. We will do even more to strip away their illegally obtained assets.
'Officers and staff from existing agencies that will become part of the NCA are already working hard to tackle serious, organised and complex crime and new approaches and capabilities will become operational before 2013 to cut crime and protect our borders.
'I shall be working closely with chief constables, leaders of other law-enforcement organisations, police authorities, police and crime commissioners and the government to ensure that the NCA delivers the maximum protection possible for communities within the resources it has available.'
The recruitment process followed normal arrangements for senior civil service posts, with a final interview panel comprising of senior civil servants and senior figures from the law enforcement community.
Notes to editors
The selection process has been chaired by Eliza Hermann, civil service commissioner. The panel consisted of Dame Helen Ghosh (Home Office Permanent Secretary), Sir Denis O'Connor (HM chief inspector of constabulary), Sir David Phillips (formerly chief constable of Kent and president of ACPO) and Charles Farr (director general office for security and counter terrorism).

Keith Bristow has extensive experience of leading organised crime investigations at both force level and nationally. Appointed chief constable of Warwickshire police in 2006, his previous  experience includes senior roles in West Midlands police and as director of the national criminal intelligence service (a forerunner of SOCA), where he was responsible for national and international intelligence on serious organised crime threats. He has held the national lead on crime for ACPO and chairs the G8 law enforcement group that works to support G8 member states in tackling transnational organised crime. As chief constable of Warwickshire police, Keith Bristow has delivered both a dramatic improvement in performance and significant budget savings.

Subject to legislation, the NCA will be fully operational by December 2013.

The NCA Plan, published on 8 June this year, set out the Home Secretary's vision for the new agency at the centre of the reformed policing landscape. The national crime agency will spearhead the UK's fight against serious and organised crime, strengthen policing at the border and ensure local policing effectively links to the work of national agencies and action overseas.
Published 10 October 2011