Press release
New guidance aims to help prevent unexpected child deaths in London
PHE publishes 2 new public safety updates on reducing infant mortality and SUDI to coincide with Child Safety Week (1 to 7 June).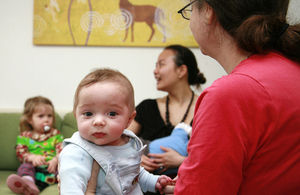 Public Health England (PHE) has today (2 June 2015) published 2 new public safety updates on reducing infant mortality and sudden unexpected death in infancy (SUDI).
In London, around 10 babies a week die before their first birthday. PHE London is raising awareness of the common risk factors and preventative measures to educate parents, carers and health professionals across the capital on how to reduce unexpected infant deaths. Infant mortality is the death of any child up to the age of one year old and is an indicator of both maternal and newborn health and care.
SUDI is a leading cause of infant mortality in children aged between 1 month and 1 year; these are deaths that remain unexplained, even after thorough investigation.
Many factors can impact on rates of both infant mortality and SUDI, including:
low birth weight (increases the likelihood of death in the first year after birth by 27)
poverty (in London 3 in every 10 children live in poverty compared to 2 in every 10 children in England)
age (infant mortality is 44% higher in babies born to a young mother – in London one in 46 teenage girls aged 15 to 17 becomes pregnant every year compared to one in 41 teenage girls aged 15 to 17 in England)
smoking (babies are at greater risk of unexpected death when a mother smokes during pregnancy or, if there is smoking in the home – in London one in 20 women smoke during pregnancy, 2.5 times less than the figure for England, 1 in 8)
Ninety-one per cent of babies who die from SUDI have one or more of these (and other) risk factors present. 75% have 2 or more risk factors present.
Dr Yvonne Doyle, regional director of PHE London, said:
The death of any child is tragic and it may come as a shock to hear the number of young children in London who die unexpectedly. Although unexplained infant deaths have reduced in London over recent years, numbers remain high.
By raising awareness of sudden and unexpected deaths in babies and some of the commonly associated risks, we can hopefully further educate parents and guardians and help to reduce infant mortality in London.
Advice to prevent SUDI includes encouraging safer sleeping actions such as ensuring babies sleep in the supine position (on their backs); babies sleeping in a separate cot (in the same room as their parent); and parents avoiding co-sleeping with babies if under the influence of either drugs and alcohol.
Francine Bates, Chief Executive of The Lullaby Trust, said:
We have one of the highest infant mortality rates in Western Europe which is staggering when we know of measures that can reduce the risk of SUDI and save lives. Some of these deaths could be prevented if parents understood how best to sleep their babies safely.

The safest place for a baby to sleep is on its back in a cot or Moses basket in the same room as a parent for at least the first 6 months.

In other countries like Holland where SUDI is very low, they apply a concerted strategy to reducing infant deaths and their health professionals consistently give the safer sleep advice to families. We are pleased to be working with PHE London to raise awareness of sudden unexpected death in infancy.
Dr Marilena Korkodilos, a paediatrician and child health lead for PHE London, said:
We have produced these child safety updates to educate healthcare professionals, parents and carers on how to help prevent infant mortality. They give advice on maternal and infant nutrition, child immunisation and other risk factors that have been associated with infant deaths.

We hope our work will contribute in tackling infant mortality across London, support families and contribute to our already excellent early years services.
Background
PHE exists to protect and improve the nation's health and wellbeing and reduce health inequalities. It does this through advocacy, partnerships, world-class science, knowledge and intelligence, and the delivery of specialist public health services. PHE is an operationally autonomous executive agency of the Department of Health. www.gov.uk/phe Follow us on Twitter @PHE_uk
In 2012, across England and Wales there were 221 unexplained infant deaths and 34 in London. Eight out of 10 of these unexplained infant deaths occurred after the first 28 days (the post-neonatal period).
Unexplained infant deaths have fallen by about 23% in London from 2005 (44 deaths) to 2012 (34 deaths)
Read the 'London Child Safety Update: Sudden unexpected deaths in infancy' and 'Reducing infant mortality in London'. For The Lullaby Trust press office, please contact a member of the team on 020 7802 3202.
You can find more information on safer sleeping actions on The Lullaby Trust website.
Public Health England London press office
151 Buckingham Palace Road



London
SW1W 9SZ
Published 2 June 2015