News story
New Groceries Code Adjudicator
Bill to protect suppliers from unfair treatment by supermarkets is published in the House of Lords.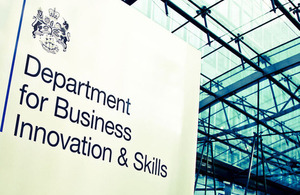 11 May 2012
---
---
The creation of a new Adjudicator will beef up protection for farmers and suppliers. It will ensure that large retailers treat them fairly by lawfully adhering to the Groceries Code.
In particular, it will:
Arbitrate disputes between retailers and suppliers.
Investigate confidential complaints from direct and indirect suppliers, whether in the UK or overseas, and from third parties, to end the 'climate of fear'.
Hold to account retailers who break the rules by 'naming and shaming' or fining supermarkets.
Business Minister Norman Lamb said:
"The large supermarkets have a lot of buyer power, and with power come responsibilities.
"Supermarkets will still be able to secure the best deals and to pass the benefits on to consumers, but they should also treat farmers and suppliers fairly and lawfully. This means paying them on time or not being able to scrap arrangements with farmers and suppliers at the drop of a hat.
"Free and fair competition is the key to a healthy market and by preventing retailers from transferring excessive risk to their suppliers we will support investment and innovation in the supply chain.
"In the long-term, that's in the best interests of everyone, especially the consumer."
The Bill was introduced into Parliament on 10 May. Follow the progress of the Groceries Code Adjudicator Bill on the Parliament website.
Groceries Code Adjudicator (GCA)
The new body is being established to enforce the Groceries Code after the Competition Commission identified competition issues in their 2008 market study.
In particular it concluded that the market dominance of big supermarkets led to some suppliers being treated unfairly in the UK and overseas.
If a retailer is found to have breached the Groceries Code then the Adjudicator would have wide ranging powers to effect remedies such as:
Issuing recommendations to solve the dispute.
Naming and shaming the offenders by publishing information.
Imposing fines (if the Secretary of State considers that the other solutions aren't working and grants the Adjudicator this power).
Links
Published 11 May 2012