Press release
New government guidance on minicabs to give volunteers and care workers a smoother ride
New guidance means volunteers, childminders and care workers won't have to be licensed as minicabs.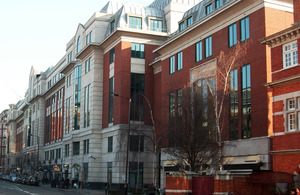 Volunteers, childminders and care workers should be freed from the unnecessary and costly process of being licensed as minicabs following guidance published by Transport Minister, Norman Baker today.
Changes to the minicab licensing laws in 2006 mean that some councils have been classing people like childminders - who drive children to and from school in their own vehicles, and care workers - who assist elderly people in their homes, as minicab drivers. The new guidance makes it clearer which vehicles the government believes need minicab licences - and those that do not, removing the burden on local authorities of licensing vehicles unnecessarily.
Transport Minister Norman Baker said:
'Dad's taxi' is often a joke in many families, but we don't need councils perpetuating the myth!

Clearly parents helping out at a play group, or carers getting people to the doctor are not minicab drivers. I hope that by publishing this new guidance today these people will be able to get on with their vital activities, without the hassle or cost of getting a minicab licence.

Councils will also benefit by cutting out unnecessary paperwork which wastes valuable time and money. This is good, common-sense government.
Some childminders have ended up doubling up on CRB checks because of the confusion. Other examples include care workers being asked to complete the minicab driver 'knowledge test'.
Groups the government considers should be exempt from licensing their vehicle are:
Private ambulances, including emergency vehicles and vehicles which operate as part of a formal patient transport service
Volunteers who share their car or provide lifts as part of their voluntary duties
Care and support worker services, including those who care for adults in their own homes, in community settings or in residential or nursing care homes
Childminders who carry children as passengers as part of their duties
Rental car companies and garages offering 'courtesy lift' services for customers, for example whilst their car is in for repair
Colin Angel, Head of Policy and Communication at the UK Homecare Association, said:
We warmly welcome the Department for Transport guidance. It is an unnecessary burden to ask homecare workers to apply for a minicab licence. We hope that councils will agree that these infrequent trips help elderly and disabled people maintain their independence and quality of life, and are not a cab service.
Stuart Turner, Director of Professional Standards at the National Childminding Association, said:
This guidance will be welcomed by registered childminders, and will help to ensure they are not required to hold a private hire vehicle licence when taking children on the school run or on trips to the park. It's vital that children can access learning and development opportunities out in the community, and this guidance will help to ensure childminders can continue to offer this for children in their care.
The guidance is another important action from the government's 'Plan for growth', published alongside the Budget in March, aimed at boosting the vital contribution to the economy from the social care system.
Notes to editors
The full guidance on minicabs.
The Plan for growth, published alongside the Budget in March, examined the healthcare sector and set out number of measures to break down barriers and promote opportunities to help improve the important contribution it makes to the economy.
The 'Plan for growth' formed the first part of the ongoing growth review, which is a fundamental assessment of what every part of government is doing to provide the conditions for private sector growth.
The Road Safety Act 2006 repealed the exemption from private hire vehicle (PHV) licensing for vehicles used on contracts lasting not less than 7 days. Although DfT produced a simple guidance note at the time of the repeal, the In House Policy Consultants concluded that there were too many grey areas where local authorities simply did not know whether or not certain vehicles (eg childminders, private ambulance operators, home carers etc) should be licensed. DfT committed itself to producing a more robust and definitive guidance note as a result of the IHPC report. The new guidance published today fulfils that commitment.
Press enquiries: 020 7944 3108
Out of hours: 020 7944 4292
Public enquiries: 0300 330 3000
Published 3 August 2011