Press release
New funding for local HIV prevention
Public Health England (PHE) announces an HIV Prevention Innovation Fund for 2016 to 2017 of up to £600,000 for local prevention initiatives.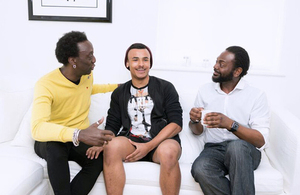 PHE is encouraging voluntary organisations to apply for national funding to support innovative HIV projects across England.
HIV (human immunodeficiency virus) remains a public health concern despite major advances in treatment. An estimated 103,700 people in the UK have HIV with a sixth (18,100) unaware and at risk of unknowingly passing on the virus to others.
The risk of infection is higher in certain groups of the population; gay and bisexual men and Black African communities. However, targeted and innovative local initiatives can reduce the risk of people contracting or passing on HIV.
PHE has announced an HIV Prevention Innovation Fund for 2016 to 2017 of up to £600,000, for local HIV prevention initiatives.
Proposals are particularly welcomed that tackle:
diagnosis for both HIV and other sexually transmitted infections
stigma associated with HIV
other risky behaviours that can increase risk of contracting HIV such as drug and alcohol misuse
the integration of HIV prevention into wider sexual and reproductive health
Public Health Minister Jane Ellison said:
Stopping the spread of HIV remains a priority for the UK government.

We are already seeing some exciting prospects develop from last year's fund and I am looking forward to seeing more creativity and innovation this time round.
Professor Kevin Fenton, National Director of Health and Wellbeing at Public Health England said;
Our work with local partners is essential in fighting the rates of HIV in this country, which are still rising among certain groups.

The fund represents an opportunity for local areas to further benefit from national support and I hope to see a range of applications, showcasing creative local solutions to a longstanding public health issue.
The application phase for the new National HIV prevention innovation fund opens on Tuesday 10 May, running until Wednesday 15 June 2016. Applications are encouraged from voluntary sector organisations, supported by their local authority, for projects that target groups at high risk.
The total available fund for 2016 to 2017 is up to £600,000. Those interested in the fund are asked to register at hiv.prevention@phe.gov.uk.
Background information
In 2014 an estimated 103,700 people were living with HIV in the UK, with nearly 1 in 5 (17%, 18,100) unaware of their infection. Among men who have sex with men (MSM) aged 15 to 44, 1 in 20 are estimated to have HIV. While the number of new HIV diagnoses in the total population are in decline overall, diagnoses among MSM have continued to rise. MSM accounted for more than half of all new HIV diagnoses in 2014, with 3,360 men newly diagnosed: the largest number ever recorded. Among heterosexuals aged 15 to 44, almost 1 in every 1,000 is estimated to have HIV. Prevalence is higher among black African communities, with 1 in 56 men and 1 in 22 women living with HIV. See HIV in the UK.

The National HIV prevention innovation fund is funded by the allocation from the Department of Health to Public Health England for HIV prevention and sexual health promotion.

Projects must have local authority endorsement in order to be eligible for the fund. Eligible projects can apply for the fund from the 10 May until 2pm on 15 June 2016, by emailing hiv.prevention@phe.gov.uk for an application pack.

Public Health England exists to protect and improve the nation's health and wellbeing, and reduce health inequalities. It does this through world-class science, knowledge and intelligence, advocacy, partnerships and the delivery of specialist public health services. PHE is an operationally autonomous executive agency of the Department of Health. Twitter: @PHE_uk, Facebook: www.facebook.com/PublicHealthEngland.
Public Health England press office
Published 10 May 2016
Last updated 11 May 2016
+ show all updates
Amended the closing date to 2pm on Wednesday 15 June 2016.

First published.