New funding for child protection in Cambodia on International Children's Day
British Embassy Phnom Penh announces the new funding for protecting Cambodian children and building law enforcement capacity.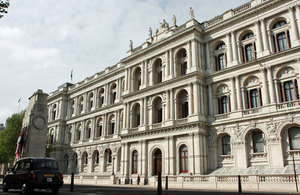 On International Children's Day the British Embassy is pleased to announce that the Embassy's work with the UK Child Exploitation and Online Protection (CEOP) in Cambodia in protecting children and building law enforcement capacity will continue to receive funding this year.
This is part of an ongoing regional initiative in Cambodia, Thailand, Vietnam and the Philippines. Our Embassies support CEOP's work with the law enforcement agencies and NGOs in those countries to safeguard children.
This year we will carry on funding to train police and people who work with children on how to ensure they are safe in the real world and online environment. We will also be helping to introduce a UK criminal records check for employers in South East Asia, to help vetting of British nationals seeking work in schools and NGOs in this region.
In February 2012 we will host a regional workshop in Phnom Penh with CEOP and the Cambodian National Police, for Police and NGOs from Thailand, Vietnam and Philippines to plan for their ongoing networking and collaboration from 2012 onwards.
Published 1 June 2011