Press release
New free counter-fraud measure from HM Land Registry for companies
Following a pilot, a counter-fraud security measure has been introduced by HM Land Registry for companies who own registered property and are concerned it might be subject to a fraudulent sale or mortgage.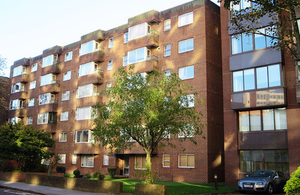 Tenanted, unoccupied or mortgage-free properties are known to be particularly vulnerable.
Property fraud can happen in many ways. Fraudsters may attempt to acquire ownership of a property either by using a forged document to transfer it into their own name, or by impersonating the registered owner. Once they have raised money by mortgaging the property without the owner's knowledge, they disappear without making repayments leaving the owner to deal with the consequences.
Alasdair Lewis, Director of Legal Services said:
Recorded incidents of forged transfers and charges are not restricted to individuals; corporate owners such as landlords of residential and commercial properties are targeted too. Since September 2009, we have prevented frauds on over 160 applications representing properties valued in excess of £70m.

With fraud currently estimated to cost the economy £70bn annually, it makes sense to try and deter fraudsters wherever possible. Together with our top tips, our new restriction can easily be used by companies to help protect their property from being stolen.
A request by a company for a restriction can be made using Form RQ(Co). The restriction is designed to help safeguard against forgery by requiring conveyancers, for example, a solicitor, to certify that they are satisfied the company transferring, leasing or mortgaging the property is the same company as the owner before any new sale, lease or mortgage is registered. They must also certify that they have taken reasonable steps to establish that anyone who executed the deed on behalf of the company held the stated office at the time of execution.
There is no HM Land Registry fee for companies registering this restriction for up to three titles. It follows the successful launch, three years ago, of a similar free restriction for private individuals who do not live in the property they wish to protect.
Our top tips to protect property from fraudsters are:
make sure the property is registered. Innocent victims of fraud who suffer a financial loss as a consequence, may be compensated
once registered, have up-to-date contact details on the title register so we can reach you easily - up to three addresses can be used including email addresses or an address abroad
sign up for our multi award-winning free Property Alert service which helps owners guard against property fraud on up to ten registered properties in England and Wales
private owners and companies who feel their property might be at risk can have a restriction entered on their title register which is designed to help prevent forgery
contact our property fraud line on 0300 006 7030 if you think you're the victim of property fraud or email reportafraud@landregistry.gov.uk
Case study
An application to register a fraudulent transfer of a tenanted property in Princes Risborough, Bucks was identified by HM Land Registry, who worked closely with Thames Valley police in their investigation of the crime. This led to the arrest and conviction of two individuals for this and another fraud they were in the process of carrying out at a property in the Worcester area. In 2011 both were sentenced to four years' imprisonment.
ENDS
Notes to editors
The new restriction using Form RQ (Co) can be downloaded and should be sent to the Citizen Centre, PO Box 6350, Coventry CV3 9LP.
If a company requires the restriction for more than three registered titles, they must use form RX1 which costs £90 per title (£45 if delivered electronically).
Find out more about how to protect your land and property from fraud.
With the largest transactional database of its kind detailing over 24 million titles, Land Registry underpins the economy by safeguarding ownership of many billions of pounds worth of property.
As a government department established in 1862, executive agency and trading fund responsible to the Secretary of State for Business, Innovation and Skills, HM Land Registry keeps and maintains the Land Register for England and Wales. The Land Register has been an open document since 1990.
For more information about HM Land Registry, see www.gov.uk/land-registry and our blog.
Contact
Press Office
Trafalgar House
1 Bedford Park
Croydon
CR0 2AQ
Published 4 February 2015