New Flag Car for the Cayman Islands Government
Her Excellency, Governor Helen Kilpatrick receives the new flag car on behalf of the Cayman Islands Government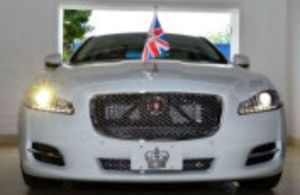 In July, the Royal Navy support vessel, RFA Lyme Bay, delivered (free of charge) a container carrying the new flag car for the Governor. Eurocar Cayman Ltd presented it to the Governor at their Sheddon Road showroom on Wednesday 5 August.
The new, British built, flag car is a 2015 Jaguar XJ in 'Polaris white'. By purchasing through the Foreign and Commonwealth Office the Cayman Islands Government was able to secure a heavily discounted price for this new vehicle. With the free shipping, the value for money savings were considerable. This latest model Jaguar has a 3.0 litre V6 300i turbocharged diesel engine that delivers impressive economy and emissions performance for a car in this class.
The Governor's flag car is the most prestigious vehicle in the Cayman Islands vehicle fleet. The new Jaguar replaces the current Lincoln Towncar which is beyond its economic life in the fleet.
Her Excellency the Governor said; "I am delighted to be the first Governor to use the new flag car. Jaguar has been a leading British brand in the global motor industry since 1945. I am particularly pleased that Cayman Islands Government were able to replace the current uneconomic flag car with a vehicle that provides such good value for money."
Published 7 August 2015