New financial deal for council housing
Housing Minister Grant Shapps has fired the starting gun on a council housing revolution that for the first time puts councils and communities…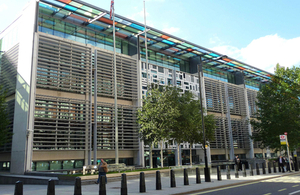 Housing Minister Grant Shapps has fired the starting gun on a council housing revolution that for the first time puts councils and communities in control - allowing them to make long term plans to offer a better deal to England's four million council tenants.
Under this new localist approach councils will have the tools and incentives to more effectively manage their housing stock over the long term, they will be free to make their own decisions about housing assets and through greater transparency tenants and local taxpayers will be better placed to hold their landlord to account.
The Minister today published details of the new financial deal for council housing - a key measure of the Localism Bill currently before Parliament. This includes a detailed description of how each council's opening financial position will be determined and the process for implementing these reforms in April 2012. By providing councils with clarity on funding for the future they can now begin detailed preparations on how they plan to better meet the housing needs of their communities over the long term.
This new approach, developed in partnership with local government, will bring an end to the Housing Revenue Account subsidy system where councils were required to pay council rents to Whitehall which decided how to redistribute it meaning they had no certainty about future income, no ability to plan long term and little incentive to be more efficient.
The new self-financing approach puts councils firmly in control with the tools and incentives they need to manage their housing stock over the long term rather than on a year by year basis. This will be achieved by a one-off adjustment to each council's housing debt after which councils will retain all the rental income they collect. And they will be free to make decisions about their housing assets without first having to get permission from Ministers in Whitehall.
By introducing a direct link between rents councils charge, the money they spend and the services they deliver tenants and local tax payers will be better able to hold their landlords to account. Councils will now for the first time be able to make information about how money is raised and spent publicly available in an easily accessible format. This will include how landlords are improving value for money to their tenants and local tax payers.
The deal includes an extra half a billion per year for councils to spend on their housing stock and extra £116 million funding for councils to pay for disabled adaptations to homes. In total, funding for management, maintenance, repairs and adaptations under the new approach will be 14 per cent higher than under the current subsidy system.
The Localism Bill, that begins its Committee Stage in the House of Commons today, 1 February 2011, includes these measures to repeal the existing subsidy system and replace it with powers for the Secretary of State to introduce self-financing.
Grant Shapps said:
This deal brings to an end a centralised system which meant councils didn't know what funding they would get for housing from one year to the next and were unable to take key decisions about their housing stock. It prevented them from delivering the best possible services for their tenants in the most efficient way.

I am setting councils free to better meet the needs of their tenants. Today I am outlining these new freedoms as well as how each council's opening financial position will be calculated. By giving them clarity on their future revenue and the freedom they have to decide what is best in their local area they can now start preparing for this council house revolution that will begin next year. They now have the tools and incentives to radically overhaul the housing services they provide and deliver better value for money.

And by putting councils in control and making the decisions they take more transparent tenants and local tax payers will be better placed to hold their landlords to account.
Notes for editors
Introduction
The department has published a policy document on the future financial arrangements for council housing entitled 'Implementing Self-financing'. This is accompanied by:
i. A model which applies the settlement methodology to local authority data to provide indicative figures per council
ii. A user guide to accompany this model
iii. A report on the model inputs, assumptions and outputs
These reforms only have implications for each stock-retaining local authority's ring-fenced Housing Revenue Account, and will not impact on their general finances, or on other local authorities. Chapter 5 of 'Implementing Self-financing' has more information on the arrangements which keep money for housing separate from money spent on other services.
Abolition of the subsidy system does not end the requirement for local authorities to maintain a statutory, ring-fenced Housing Revenue Account. Local authorities will still be required to account to their tenants for income from and expenditure to council housing separately from income and spending on other functions and services. This ensures that council taxpayers do not subsidise services specifically for the benefit of tenants and that rent is not used to subsidise functions which are for the benefit of the wider local community.
The overall methodology
Valuations will be based on assumptions about each local authority's income and need to spend over 30 years. Assumptions about income will follow from the Government's social rent policy. The assumptions about expenditure needs will reflect evidence commissioned by Government in 2009 and 2010 about the costs of managing, maintaining and repairing the stock. This 30-year cash flow of income and expenditure will then be converted into a capital sum using standard discounted cash flow techniques.
The self-financing valuation will assume that local authorities will follow national social rent policy, which comprises a number of different components:
(i) A 'formula rent' for each property, based on property values, property size and local earnings. Over time, all social landlords are expected to move their rents in line with this formula. At present most housing associations set rents at or close to the formula level, but council rents were on average approximately 8 per cent below this in 2010/11.
(ii) A 'guideline rent' which converges with the formula rent by 2015/16. The valuation will assume convergence with formula rents by 2015/16, followed by rental increase of just above inflation year on year - set at the Retail Price Index + 0.5 per cent per annum.
(iii) A limit on individual rent rises of RPI + 0.5 per cent + £2 each year. This cap prevents excessively high increases in the rents of individual properties as they are moved over time to the formula rent. An estimate will be made for each landlord about the number of tenants whose rents could not move to the formula by 2015/16 without breaching this element of rent policy. The assumed income in the valuation will be reduced by this amount.
The spending needs built into the valuation are based on independent research about actual unit costs (by BRE, HQN and PwC) which are significantly higher than those under the present subsidy system. This approach to costs will give all local authorities more money to spend on managing, maintaining and repairing their stock than under the current system. In aggregate this works out at an increase to £545 million per year for 30 years or a national average Major Repairs Allowance of £956 per dwelling per year and average management and maintenance allowances of £2,061 per dwelling per year.
The assumed rents and costs will be used to produce a notional 30 year business plan of income and expenditure for each local authority landlord's business. This will be converted into a stock valuation using standard discounted cash flow principles, using a 6.5 per cent discount rate.
In order to calculate the payment to or from Government, the valuation will be compared with the notional amount of housing debt supported by Housing Revenue Account subsidy. If the valuation is higher than this assumed debt figure, the local authority will be required to pay Government the difference. If the valuation is lower, the Government will pay the difference to the local authority. Payments from central Government will in most cases not go to local authorities directly, but will be used to redeem debt held by the local authority.
The key figure
The key national figures are:
the estimated aggregate value of local authorities' housing businesses in 2012 at a discount rate of 6.5 per cent is £28.138 billion
the forecast for national Housing Revenue Account debt at April 2012 is £21,428 billion
the forecast receipt to the Exchequer is £6.711 billion.
For more information on these national figures including how the valuation, debt levels and receipt have altered since the figures published in March 2010 consultation see Annex A of 'Implementing Self-financing'.
The existing system
The existing subsidy system will continue unchanged for 2011/12.  Arrangements for this year are contained in 'Implementing Self-financing'.
Twitter
Keep up to date with the Department by following us on Twitter (external link).
Media enquiries
Visit our newsroom contacts page for media enquiry contact details.
Published 1 February 2011