News story
New figures show July saw 'highest ever' visit numbers to national museums
Official statistics published today, reveal that visit numbers to museums and galleries sponsored by the DCMS in July this year were the highest since records began.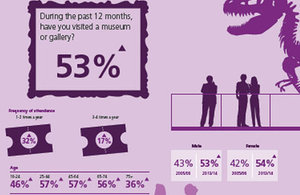 Very nearly five million visits were recorded in that month, two per higher than in July 2013. These figures support the conclusions of the latest Taking Part survey which shows that, across the nine years it has been running, the proportion of adults visiting a museum or gallery, by all age groups and by both men and women, has risen significantly for all museums and galleries in England.
Culture Minister Ed Vaizey said:
Our museums and galleries are a national success story. Government investment to guarantee free admission for the national collections, coupled with world-class exhibitions and permanent collections, equals soaring visitor numbers. And this is great for the institutions themselves, good for inward investment in the surrounding areas, and a terrific boost for our reputation everywhere as the home of world-class culture and a top tourist destination.
Published 11 September 2014