Press release
New figures reveal National Citizen Service on track to deliver £400 million in benefits to society by 2014
For every £1 spent on National Citizen Service (NCS) up to £2 goes back to the communities and young people who took part, according to an independent report.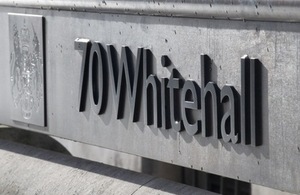 For every £1 spent on National Citizen Service (NCS) up to £2 is being returned to the communities and young people who took part, according to new independent analysis published by a consortium led by NatCen Social Research.
The resounding success of National Citizen Service means the government is now expanding the programme from 30,000 places in 2012 up to 90,000 by 2014. This will mean that the government will invest around £200 million into young people's futures but could reap £400 million in benefits to communities. 
National Citizen Service is an ambitious scheme to develop the skills and potential of 16 and 17 year-olds. The new figures come from a rigorous independent evaluation of last year's scheme by a consortium led by the NatCen Social Research.
The benefits are calculated by taking into consideration the equivalent of over £600,000 in working-hours volunteered by participants, and projected increased earnings over a lifetime of those who took part, as a result of some of the positive impacts of the programme on young people.
The evaluation also found that participation in NCS resulted in more social mixing during the programme, and increased well-being and reduced anti-social behaviour afterwards, meaning the true returns are likely to be even higher. 
The Prime Minister said:
In July 2005 I suggested the idea of National Citizen Service to help bring our country together. Since then we have worked hard to turn this from an idea into a reality, and last year nearly 8,500 16 year olds took part.

Every time I meet young people taking part in NCS they tell me what a difference it has made: they feel more confident about their future and more connected to their community. I am delighted that the independent evaluation reflects this and shows that NCS makes a real difference to the lives of young people and to our country.

We are now inviting organisations to help us deliver the next phase of this programme. We will need the best and brightest charities, businesses and social enterprises to get on board to fulfil my ambition that every teenager will have the chance to benefit from this fantastic opportunity in the future.
Minister for Civil Society Nick Hurd said:
We always knew that National Citizen Service is a powerful and often life-changing experience for young people, and this independent analysis confirms just that. This is a programme that brings together participants from different backgrounds to have a shared experience where they can learn important skills for the future and bring about change in their neighbourhoods.

I want today's generation of young people to be 'work ready', well-rounded young people with raised aspirations and greater opportunities in their future - I am clear that NCS will help them achieve this.
Children's Minister Tim Loughton said:
I am very pleased the independent analysis shows how successful the National Citizen Service has already been in a short space of time. It confirms that the NCS has made a real and positive difference on the lives of many young people, offering them the chance to learn important skills and mix with other young people from a wide range of backgrounds.

The invitation to tender we are launching today demonstrates our commitment to ensuring that all young people can have the opportunity to experience NCS. I urge voluntary, business and public sector organisations to get involved in its delivery, and I'm delighted that even more young people will benefit from this pioneering and potentially life changing programme as we roll it out across the country.
Overall the scheme has struck a chord with thousands of young people who took part:
93% said they would definitely recommend NCS to their friends
95% of young people said that NCS gave them the chance to develop more skills for the future, with the proportion saying they were planning to continue studying after NCS increasing from 27% to 34%
85% of participants agreed that the scheme had made them feel more positive towards people from different backgrounds
over 200,000 hours of social action were completed by NCS participants in 2011 and 77% of participants said that following NCS they were more likely to help out locally
in addition to the social action completed as part of NCS, participants were more likely to have helped out a neighbour or someone else locally during the summer
Ayesha Taylor-Camara, NCS graduate 2011, said:
National Citizen Service has been a fantastic experience as it's enabled me to try things I wouldn't have had the opportunity to before and get a better idea about what I'd like to do in the future, such as setting up my own schemes for young people - helping them get work experience and providing alternative options to higher education.

It's made me realise that I'd like to definitely carry on helping the community and helping young people pursue their goals. I'd certainly recommend it to my friends, I'm still in touch with people who went on NCS and I even met a girl who lived on my road that I didn't know before.
Maj (Retd) Chris Hunter QGM, Author and Former Army Bomb Disposal Operator, said:
In these times of uncertainty we need to harness the power and innate talent of our young people more than ever. The NCS programme provides the perfect opportunity to nurture that talent and help our amazing young people to develop their self-confidence and hone their skills to get more involved in their communities, shape their futures and put the GREAT back into Britain.
Charlotte Hill, Chief Executive, UK Youth, said:
It's great to see the evaluation of the 2011 NCS Pilot coming through with some really positive findings about the young people who took part. Over 90% of the 8,500 participants had an incredibly positive experience and mixed with people they wouldn't have otherwise. It will be fascinating to see how their behaviour in the communities has changed long term, and if the general uplift we have seen in this evaluation continues.
Penny Young, Chief Executive of NatCen Social Research, said:
Our independent evaluation brings to life the impact National Citizen Service has on young people. By comparing the outcomes of NCS participants with a matched 'control' group, we're able clearly to attribute changes in young people's skills and potential to taking part in the programme.
Brett Wigdortz, CEO and Founder of Teach First, said:
I am very encouraged to see the results of the evaluation of the first year of the National Citizen Service. At Teach First our focus is on raising the achievement, aspirations and access to opportunity of pupils from low socio-economic backgrounds, so I was particularly interested to see that the programme is increasing its participants' aspirations for continuing in education, as well as helping them to build valuable teamwork and leadership skills.

As the initiative progresses we look forward to seeing its longer term impact on the educational attainment and employment patterns of those taking part.
The government will shortly be inviting voluntary organisations, social enterprises, businesses and public sector organisations to bid to run programmes for up to 90,000 young people by 2014 in a market that is worth around £200 million.
The government will incentivise providers to deliver a high quality programme for young people. A proportion of their payment from government will be paid at the end of the programme based on completion rates, participant satisfaction rating and achievement of social mix.
Notes to editors
National Citizen Service (NCS) is a life-changing experience for 16 and 17-year-olds. The scheme is available to people from all backgrounds and brings together those who might otherwise not have met. They get the chance to do outdoor activities, meet new people and have the chance to give something back to their communities. By taking part they learn new skills and have a great experience they can put on their CVs or college applications. It takes place over three weeks full time and then 30 hours are spent making the local community a better place.
The interim evaluation report of the 2011 pilots, conducted by NatCen Social Research, is available online.
In 2011, 12 providers were commissioned to run NCS pilots. Nearly 8,500 young people took part.
 
This year 30,000 places are available and the long-term aim is for NCS to be available to every 16 and 17-year-old. There will be 90,000 places by 2014. There are still some places available for programmes running this summer
A new National Citizen Service website is now and up and running and providing information on the opportunities available this summer, and a competition has been launched for those who took part last year to submit a short film about their experiences - the winner will  get valuable work experience at top video and content production company Somethin' Else.
You can find out more about bidding to run future NCS programmes online.
NCS promotes:
a more cohesive society by mixing participants from different backgrounds
a more responsible society by supporting young people's transition into adulthood
a more engaged society by enabling young people to work together to create social action projects in their local communities
It brings young people together from different backgrounds (eg religious, ethnic and socio-economic) to work together, and teaches them what it means to be responsible and serve their communities.
For more information about NCS and the film competition go to facebook.com/ncs or www.direct.gov.uk/ncs.
For a copy of The Challenge's evaluation report on their summer 2011 programme please contact The Challenge on 020 7921 4406.
The following videos on the National Citizen Service are available to embed in your website: 
If you would like to interview one of our celebrity ambassadors - Alex Zane Johnson Beharry, Ben Collins (aka The Stig), Danny Crates, Marlon Devonish, Alex Gregory, DJ Mistajam, Melissa Suffield and Maj (Retd) Chris Hunter - please contact the Cabinet Office press office.
Published 17 May 2012