New Executive Director of Digital appointed
Mike Bracken has been appointed as the Government's new Executive Director of Digital.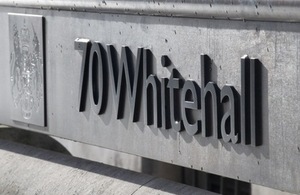 Mike Bracken has been appointed as the government's new Executive Director of Digital and will be responsible for overseeing and improving all of the government's online presence and extending the number of public services available online.
Based in the Cabinet Office, the role was created following the Martha Lane Fox review of Directgov, which recommended a change in focus for the existing Directgov Central Team, and to bring digital communications into one place. The proposal has been endorsed by a Cabinet Sub-Committee, and has unprecedented support from Ministers and across Government for an increased role in digital public services.
The new role combines the work of the Chief Executive of Directgov, the lead of cross-Government digital reform work, and part of the work of the Director for Digital Engagement and Transparency.
Mike Bracken, the government's new Executive Director of Digital, said:
This is literally a once in a lifetime opportunity. All the internal and external factors are pointing towards a revolution in digital public service delivery, and to be offered this opportunity was an honour.
"While there is a great deal to do, I am convinced that if we attract new digital skills, adopt user-first principles and work collaboratively within Government and with a wider, more agile supplier base, then we can improve how citizens interact with Government.
"We will need to collaborate, be open and quick to adopt new technologies and continually learn from users and their experiences, and it will take backing from all corners, but the prize on offer is simply too great to ignore.
Francis Maude, Minister for the Cabinet Office said,
Improving public services across government by bringing them online, making people's lives easier and saving millions of pounds is a prize worth having. Mike has a shown he can deliver real change through his achievements at the Guardian. I am looking forward seeing radical change in our public services online experience.
Mike Bracken will report to Ian Watmore, the Government's Chief Operating Officer, based in the Cabinet Office. He will be responsible for over 100 staff in the Government's Digital Service, and will join the Cabinet Office on the 5 July.
Mike Bracken is currently Director of Digital Development at Guardian News & Media, and is responsible for all consumer facing technology services and applications across the Guardian, Observer and Guardian.co.uk.
Published 20 May 2011