New era of green fuel set to clean up Britain's roads
The government is consulting on the introduction of E10 – a lower carbon fuel – at filling stations across the UK.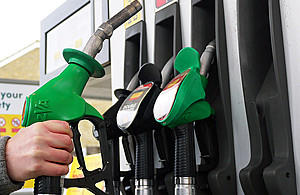 government to consult on introducing E10 petrol – a greener, cleaner fuel for petrol cars and motorbikes
introduction could see emissions reductions equivalent to taking up to 350,000 cars off the road each year
latest in a package of measures to help support industry and communities across the UK towards a net zero future
Drivers across the UK could soon be filling up their cars with a greener, lower emission fuel, Transport Secretary Grant Shapps has announced today (4 March 2020).
The government is consulting on plans for E10, a lower carbon fuel made with up to 10% ethanol, to become the standard grade of petrol at UK filling stations from next year.
By increasing the ethanol content of petrol, E10 has the potential to cut CO2 from transport by 750,000 tonnes per year. That's equivalent to taking around 350,000 cars off the road.
Transport Secretary Grant Shapps said:
The next 15 years will be absolutely crucial for slashing emissions from our roads, as we all start to feel the benefits of the transition to a zero-emission future.

But before electric cars become the norm, we want to take advantage of reduced CO2 emissions today. This small switch to petrol containing bioethanol at 10% will help drivers across country reduce the environmental impact of every journey. Overall this could equate to about 350,000 cars being taken off our roads entirely.
Current petrol grades in the UK already contain up to 5% bioethanol, known as E5. E10 would see this percentage increased up to 10%, a blend which is already well used in other countries such as Belgium, Finland, France and Germany.
Grant Pearson, Commercial Director of Ensus UK on Teesside, said:
"We welcome today's announcement as the availability of E10 will instantly make petrol a lot cleaner, providing significant carbon reduction benefits to our environment on the long road to net-zero emissions by 2050. > > It is vitally important to protecting and potentially growing jobs in this industry, including many in the supply chain, and will bring tangible benefits to UK farmers and environmentally-conscious motorists.
The consultation follows the roll-out of new labels at filling stations across the UK which highlight the biofuel content of each fuel and help drivers to easily identify the right option for their vehicle.
Today's announcement is the latest in a series of measures to support the decarbonisation of transport including funding for pioneering low carbon fuels, which are expected to save nearly 85 million tonnes of CO2 between 2018 and 2032.
As part of wider efforts to shift transport towards a greener future, the government has also pledged £5 billion to overhaul bus and cycle links, along with £50 million for Britain's first all-electric bus town, paving the way for green communities of the future.
News desk enquiries
Media enquiries 0300 7777 878
Switchboard 0300 330 3000
Published 4 March 2020