Press release
New drugs minister visits North Kent
Tackling drug misuse and reducing the impact of drug-related crime on communities is a key priority for the Home Office, new crime reduction minister James Brokenshire emphasised today on a visit to Gravesend.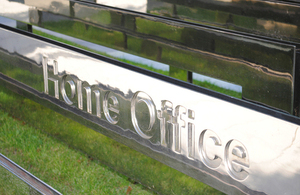 The minister met with local police in North Kent to see first hand the success they have had tackling prolific offenders with drug addictions and the results of successful community engagement on the Kings Farm Estate during a walkabout.
He also met with drug workers at the Horizon project, which provides support for drug users overcoming addictions, helping them turn away from crime.
Statement from the Home Office minister
James Brokenshire said, 'The new government is committed to tackling drug misuse and reducing the damage it can cause to our communities. We want to target both prolific drug users and the unscrupulous people who bring drugs onto our streets.
'It is really encouraging to see how north Kent police are working so closely with housing teams, drugs workers and residents to address the issues that really matter to local people and in doing so helping make the area a safer place to live.
'The work I have seen today reinforces the message that by working together we can make a difference.'
Statement from the chief inspector of Kent police
Philip Painter said, 'In north Kent, we are continually working towards addressing drug misuse. Only recently we ran a huge operation which saw more than 50 people arrested and charged with drug offences. This effectively broke down the networks of drug users and suppliers across north Kent.
'Each week we see offenders in court being handed down sentences which reflect their crimes. These cases would not get to court without the investigation and excellent work by officers in north Kent.
'Our neighbourhood teams work in our communities, together with the local councils and other partner agencies, to address the concerns of people living there. We can and will deal with issues around drugs.'
Notes to editors
For more information and footage visit the Home Office media centre.
The government's coalition includes the following (see the programme for government website) commitments:
we will introduce a system of temporary bans on new 'legal highs' while health issues are considered by independent experts. We will not permanently ban a substance without receiving full advice from the Advisory Council on the Misuse of Drugs
we will create a dedicated border police force, as part of a refocused Serious Organised Crime Agency, to enhance national security, improve immigration controls and crack down on the trafficking of people, weapons and drugs. We will work with police forces to strengthen arrangements to deal with serious crime and other cross-boundary policing challenges, and extend collaboration between forces to deliver better value for money.
Published 27 May 2010