New drug description to help ban family of legal highs
A revised description of cannabinoid-based drugs is needed to ban a dangerous new generation of legal highs, says the Advisory Council on the Misuse of Drugs (ACMD).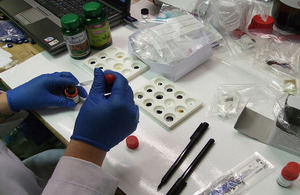 Cannabinoids are chemically created drugs that produce similar psychoactive effects to Cannabis. Many are already banned in the UK, but these compounds are constantly being altered to make legal highs that fall outside of the Misuse of Drugs Act controls.
The synthetic substances are readily available in "head shops" and can also be bought online - cannabinoids can now even be found in materials for use in e-cigarettes.
The UK has previously brought in two rounds of cannabinoid controls. The first round in 2009 included a number of named compounds but, to avoid "designer" variants being created, the controls also included materials related to the drugs already in circulation.
In 2013 the list was expanded to include a broader range of emerging materials, which had appeared since the first ban came into place.
In its latest report, published today, the ACMD now recommends a revised generic description, designed to control a "third generation" of synthetic cannabinoids which have since come on to the market.
Professor Les Iversen, Chair of the ACMD said:
It is increasingly difficult to control this diverse family of drugs in terms of their chemical structures and new variations are popping up to evade the law.

There are suggestions that some of the new substances may be more potent than the banned ones they have replaced. We have heard of users collapsing and being hospitalised due to their dangerous effects.
The recommended description is based around modifications of a model compound and is designed to be used in addition to the current generic definitions in the Misuse of Drugs Act 1971.
The ACMD's latest report on cannabinoids will now be considered by the Home Office.
Published 27 November 2014