New drug control power takes effect
A new power to temporarily control potentially harmful new drugs came into effect overnight, alongside an importation ban on two substances closely linked to chemicals found in 'legal high' brand 'Ivory Wave'.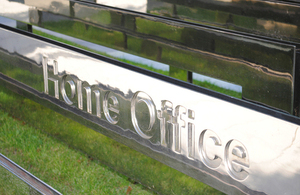 Today's importation ban covers Diphenylprolinol (D2PM) and diphenylmethyl-pyrrolidine. 
The ban means the UK Border Agency will have the power to seize and destroy any shipments of the substances at UK borders.
The temporary control power gives the Home Secretary the authority to place an instant ban on any substance deemed potentially harmful while the Advisory Council on the Misuse of Drugs provides more detailed advice to government.
The moves came as the government and independent advisers signed up to a new Working Protocol. This agreement between the Home Office and the Advisory Council on the Misuse of Drugs highlights three key areas:
how the government engages with the ACMD
the expertise and membership of the council
the advisory process to use the temporary control power with emphasis on 'legal highs'
Lord Henley Home Office Minister for Crime Prevention and Antisocial Behaviour Reduction said: 'High quality scientific advice is vital to the government's drugs policy. Today's publication of the Working Protocol underlines our shared commitment to ensuring that the best evidence-based advice is available to government on drug misuse, working together with the common purpose of tackling drug-related harms in the UK.
'The UK is leading the way in cracking down on 'legal highs' by outlawing not just individual drugs, but whole families of related substances that have the potential to cause harm.
'The temporary control power will allow government to respond quickly and effectively to the changing threat posed by drugs and in particular the emerging menace of so called 'legal highs'.'
Published 15 November 2011