New Disclosure and Barring Service board members announced
New board members to oversee a streamlined criminal records checking, referral and barring organisation have been announced.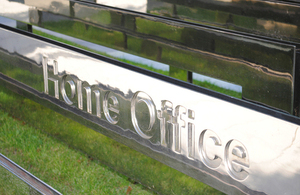 Disclosure and Barring Service
The ten members of the Disclosure and Barring Service (DBS) Board are responsonsible for strategic leadership of the organisation.
Appointed by the Home Secretary, the board is made up of seven non-executive members who have corporate experience and safeguarding expertise, and three executive members, who are senior managers within the DBS.
Protecting vulnerable groups
Lord Taylor of Holbeach, Minister for Criminal Information, said: 'I am delighted to announce the appointment of these ten members, who all have a wealth of experience in safeguarding and management.
'The DBS has a pivotal role to play in protecting vulnerable groups in our communities whilst also making the disclosure and barring process simpler for individuals and organisations who work with these groups.
'I am confident these board members will bring their extensive skills and experience to bear in making the DBS a highly effective and successful organisation.'
The new board members will join the DBS Chair Bill Griffiths, who was appointed as DBS Chair (designate) in June 2012. They are:
Richard Black (Northern Ireland representative)
David Clarke (non-executive member)
Tom Davies (Welsh representative)
Adele Downey (executive member and DBS Director for Corporate Services)
Donald Findlater (non-executive member)
Bernard Herdan(non-executive member)
Adrienne Kelbie (executive member and CEO of the DBS)
Mehmuda Mian (non-executive member)
Sue Quigley (executive member and DBS Director for Operations (Disclosure)
Caroline Tapster (non-executive member)
The Welsh and Northern Ireland governments have each nominated a representative non-executive member to represent their interests.
The Disclosure and Barring Service went live on 1 December following the merger of the Criminal Records Bureau (CRB) and Independent Safeguarding Authority (ISA). As a Non-Departmental Public Body, the DBS ensures that barring decisions continue to be taken independently of Ministers and oversees criminal records checking.
Published 14 December 2012