News story
New Director General of Immigration Enforcement announced
Border Force's Chief Operating Officer to take over as head of Immigration Enforcement.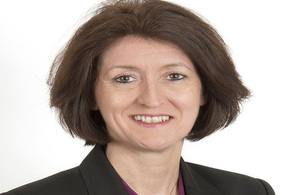 Mandie Campbell has been announced as the new Director General of Immigration Enforcement, bringing a wealth of experience from her work keeping the UK's borders secure.
New Director General
She will replace interim Director General David Wood, who has been in the role since April 2013, at the start of next month (February 2014).
Immigration Enforcement is one of the three operational immigration commands within the Home Office that were established to replace the UK Border Agency. With a distinct law enforcement ethos, its role is to target those who break our immigration laws.
Permanent Secretary Mark Sedwill said:
I am delighted to confirm Mandie's appointment. Her work at the border, especially during the Olympics, makes her the outstanding candidate for this role.

I would also like to thank David Wood for his excellent work developing this new command during a period of transition.
Immigration Enforcement
Ms Campbell became the Chief Operating Officer of Border Force in May 2012 and was formerly the Home Office's Director of Drugs, Alcohol and Community Safety.
She has held a variety of leadership roles including responsibility for intelligence development and systems, major business change programmes and legislative reform.
Immigration Enforcement Director General Mandie Campbell said:
This is a fantastic opportunity to help shape our enforcement response and I am excited by the challenges which lie ahead.

I look forward to working with fellow colleagues to maintain the UK's tough approach against those who seek to abuse or profit from our immigration system.
Published 6 January 2014