Press release
New Director General for Crime and Policing Group appointed
Paul Lincoln has been appointed as the new Director General for the Crime and Policing Group (CPG) at the Home Office.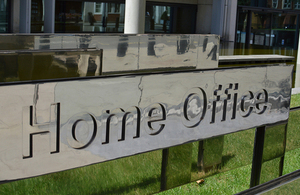 Paul replaces Mary Calam, who is leaving government after a 25 year career in the civil service to take up an opportunity in the private sector.
Paul will begin work in May. He will be accountable for protecting the public from crime, modernising law enforcement capabilities, reforming and regulating policing, and incorporating the Home Office's new responsibilities for fire and rescue.
Previously Director of National Security in the Office for Security and Counter Terrorism (OSCT) at the Home Office, Paul was acting Director General of OSCT from December 2015 to March 2016. Prior to joining the Home Office, he spent most of his career in the Ministry of Defence.
Home Secretary Theresa May said:
My thanks to Mary Calam for everything she has done both here at the Home Office and across her public sector career. I look forward to working with Paul as we continue to keep citizens safe, cut crime and reform police, fire and rescue services to improve their efficiency and effectiveness.
Permanent Secretary Mark Sedwill said:
I'd like to congratulate Paul on his appointment. Having worked closely with Paul over the last few years, I know he will do a great job in this critically important role.

I'd also like to thank Mary Calam for her contribution to the work of the Home Office, most recently as Director-General of CPG, where Mary played a vital role in overseeing a continuing fall in crime levels while delivering a major programme of police reform. We wish her every success in her new role.
Commenting on his appointment, Paul Lincoln said:
I'm excited to be taking on the challenge of leading the Crime and Policing Group, and look forward to working with colleagues across government, police, fire and rescue services to continue to cut crime and protect the public.
Published 4 April 2016